To help teachers in preparing their students for instruction that concentrates on achieving the learning objectives, we are constantly uploading our ready-made Week 7 – Quarter 3 Daily Lesson Log | March 27-31, 2023 DLL Update! Our long-term goal is to consistently update and publish our ready-made weekly K–12 Daily Lesson Logs. Just visit this page regularly for the latest uploads.
We are grateful to all of our Contributors, File Editors, and Tech Volunteers who worked sacrificially and without hesitation to manage the content of our website and social media accounts. Thank you to everyone for your continued support.
Using Anticipatory Sets in Lesson Planning
In order to engage students, an anticipatory set needs to be related to the impending lesson. If not, the challenge of piquing students' interest in the coming instruction will not be solved. Anticipatory sets—which are not the learning target—are used to prepare students for instruction that concentrates on achieving a learning objective. The following list of generally accepted recommendations for creating anticipatory sets includes:
Be brief and concise with anticipatory sets; for the majority, use no more than five minutes.
Create them such that they can be used as a bridge into the lesson; an anticipatory set that doesn't prepare students for the learning aim is inappropriate.
Attract students' attention—a dynamic tone, not a passive one, should result from an anticipatory set; students' thoughts must be actively engaged.
Employ distinctive anticipatory sets; avoid using the same set for multiple courses; customize anticipatory sets to take advantage of student interests.
Construct anticipatory sets you can use easily.
Tailor the anticipatory set to the students' backgrounds.
Demonstrate how the learning will help the pupils.
Prior knowledge the students have of the subject matter being taught.
The connection between the course/curriculum objectives and the subject matter to be taught.
Teaching objectives for the current lesson.
The interest and prior experiences of the students in the field.
Several contexts and presentation techniques can be used to display anticipatory sets. In order to develop them, teachers need be creative. Items like pictures, music, short videos, artifacts, humor, what if questions, riddles, adverts, news articles, shocking or intriguing statements that go against conventional wisdom, crucial questions that focus on the lesson's objectives, and role-playing games can all be used to develop anticipatory sets. The effectiveness of a lesson plan will be limited if attention-grabbing strategies are unsuccessful.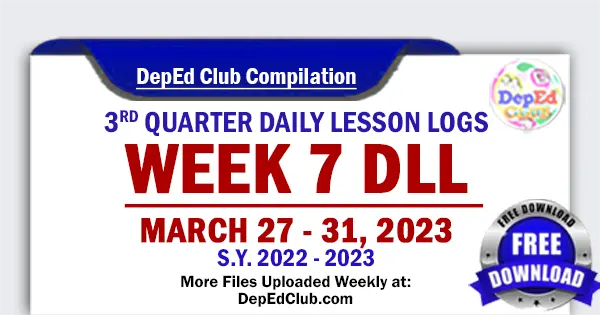 Week 7 – Quarter 3 Daily Lesson Log |
March 27-31, 2023 DLL Update!
Kindergarten Daily Lesson Log – 2nd Quarter
Grade 1 Daily Lesson Log – 3rd Quarter
Grade 2 Daily Lesson Log – 3rd Quarter
Grade 3 Daily Lesson Log – 3rd Quarter
Grade 4 Daily Lesson Log – 3rd Quarter
Grade 5 Daily Lesson Log – 3rd Quarter
Grade 6 Daily Lesson Log – 3rd Quarter
More Files uploaded Weekly. Bookmark this page for instant access. Just Press CTRL + D in your keyboard to add this page to your bookmarks.
NOW AVAILABLE:
Also Available!
IMPORTANT GUIDE:
MORE DOWNLOADABLE FILES
We are always on the process of uploading new files.
For additional updates and unannounced uploads, please visit this section from time to time.
Like us on Facebook to get INSTANT UPDATES. CLICK HERE
You can also BOOKMARK this page in your web browser by clicking Ctrl+D in your keyboard for faster access in the future. Thank you fellow Teachers.
We at DepEd Teachers Club are always grateful to all our File Authors and File Contributors. Credit goes to all of them. Let us all give them thanks and show our support for all their works.
We are also thankful for all our File Editors, Sharers, Tech Volunteers and fellow Teachers for helping us and making this kind of service possible.