To help teachers in creating lessons that best enable students to achieve the lesson's goal, we are constantly uploading our ready-made Week 9 – Quarter 3 Daily Lesson Log | April 10-14, 2023 DLL Update! Our long-term goal is to consistently update and publish our ready-made weekly K–12 Daily Lesson Logs. Just visit this page regularly for the latest uploads.
We are grateful to all of our Contributors, File Editors, and Tech Volunteers who worked sacrificially and without hesitation to manage the content of our website and social media accounts. Thank you to everyone for your continued support.
Understanding the Components of a Lesson Plan
The Madeline Hunter Model of Mastery Learning outlines mastery learning, addresses important characteristics of lesson plan components and offers insight into the parts or activities that make up a lesson plan.
Purpose (objective): The lesson's goal and the standards being reached are described in the purpose. In this instance, the teacher places special emphasis on the session's advantages for students and the methods they will use to learn from it.
A brief activity that captures students' attention before the lecture starts is referred to as an anticipatory set (focus). It could be a basic inquiry, an example issue, a handout, etc.
Input: The vocabulary, abilities, and other ideas the teacher plans to include in the lesson are referred to as input. In essence, it encapsulates the information that students must understand in order to successfully learn the lesson.
Modeling (show): It is common knowledge that the majority of students can only learn a new concept if the instructor takes the time to demonstrate it. Without requiring input from the students, simply walk through a problem to let them see how it's done.
Guided Practice: In this setting, the teacher uses the see-hear-do method, also known as the tripodal approach, to walk the class through the steps required to do the skill being stressed. As the students strive to solve difficulties, demonstrate to them how to do it.
Making sure that students comprehend the lesson can be done by checking their understanding. Determine whether students have understood by having them answer questions; if not, change the lesson's speed. Implement formative evaluation techniques.
Independent Practice: Although providing guidance as needed, let the students experience finishing classes on their own. Ascertain that every student has a solid understanding of the day's lessons and any assigned homework.
Closure: Finish up the lesson. Request a recap of the lessons you have taught the students, along with a demonstration of the new information.
Although they can be used to prepare training in any circumstance, these instructional components are not always a strict formula that must be followed. When putting together instructional strategies, keep these factors in mind. Planning is done with the intention of choosing the methods that will help students meet the lesson's objective the most effectively.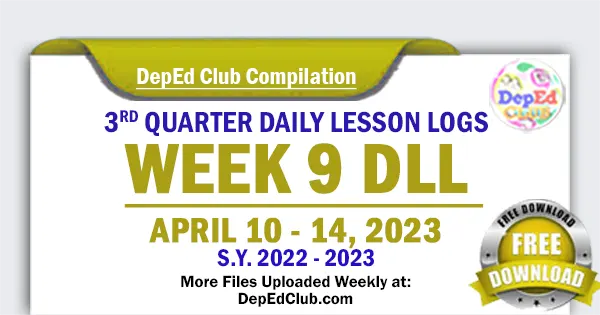 Week 9 – Quarter 3 Daily Lesson Log |
April 10-14, 2023 DLL Update!
Kindergarten Daily Lesson Log – 2nd Quarter
Grade 1 Daily Lesson Log – 3rd Quarter
Grade 2 Daily Lesson Log – 3rd Quarter
Grade 3 Daily Lesson Log – 3rd Quarter
Grade 4 Daily Lesson Log – 3rd Quarter
Grade 5 Daily Lesson Log – 3rd Quarter
Grade 6 Daily Lesson Log – 3rd Quarter
More Files uploaded Weekly. Bookmark this page for instant access. Just Press CTRL + D in your keyboard to add this page to your bookmarks.
NOW AVAILABLE:
Also Available!
IMPORTANT GUIDE:
MORE DOWNLOADABLE FILES
We are always on the process of uploading new files.
For additional updates and unannounced uploads, please visit this section from time to time.
Like us on Facebook to get INSTANT UPDATES. CLICK HERE
You can also BOOKMARK this page in your web browser by clicking Ctrl+D in your keyboard for faster access in the future. Thank you fellow Teachers.
We at DepEd Teachers Club are always grateful to all our File Authors and File Contributors. Credit goes to all of them. Let us all give them thanks and show our support for all their works.
We are also thankful for all our File Editors, Sharers, Tech Volunteers and fellow Teachers for helping us and making this kind of service possible.