To help teachers in integrating multiple goals by connecting across the curriculum, as well as to aid in their ability to integrate multiple goals and thereby cover a variety of learning in a single lesson, we are constantly uploading our ready-made Week 1 – Quarter 3 Daily Lesson Log | February 13 – 17, 2023 DLL Update!. Our long-term goal is to consistently update and publish our ready-made weekly K–12 Daily Lesson Logs. Just visit this page regularly for the latest uploads.
We are grateful to all of our Contributors, File Editors, and Tech Volunteers who worked sacrificially and without hesitation to manage the content of our website and social media accounts. Thank you to everyone for your continued support.
Characteristics of Logically Structured Lesson Plan
In lesson planning, lessons should be organized orderly. When designing lessons, there must be a step-by-step approach and indication that ideas are being developed for students. Student learning goals needs to be stated appropriately. The congruence of teachers' objectives and evaluation criteria in lesson planning is a must. The success of planning is influenced by the coherence in the lesson structure.
For effective teaching, it's important to start lesson planning with specific learning objectives. Equally significant is what is generated as a consequence of the precise and concentrated goals. Another aspect of a teacher's lesson planning that is effective is producing high-quality student work. Teachers that are effective understand that student work is both the means and the aim, and that both are equally vital.
Teachers that are highly effective can fit a lot of objectives into one lesson. Because they have plans in place, these teachers can incorporate various objectives. Bridging across the curriculum may help with this capacity to integrate numerous goals. Teachers can therefore cover a variety of skills in a single class if they have clear lesson objectives and teaching objectives for each skill. The best teachers make significant cross-curricular connections. Effective teachers create high-quality assignments for their classes using clear objectives and instructional linkages.
Student academic engagement is influenced by clearly defined objectives and excellent student activity. Students may then improve as a result of this. It is believed that student accomplishment is influenced by clear objectives and high-caliber student work. It might take time and be difficult to produce high-quality student work and courses. When planning these kinds of lessons, teachers must take into account a wide range of issues.
The objectives, substance, instructions, homework, and assessment must all be aligned for the curriculum and instruction to be effective and improve student learning. A lesson that is taught in a chronological order guarantees that all of its components are completed.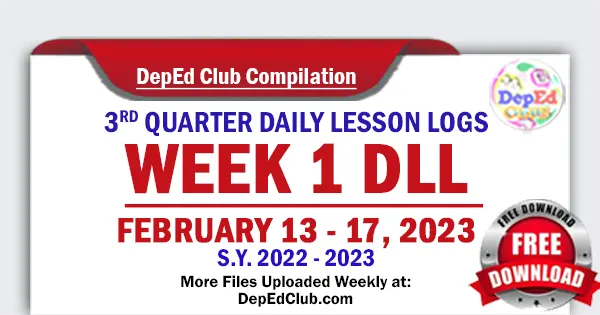 Week 1 – Quarter 3 Daily Lesson Log |
February 13 – 17, 2023 DLL Update!
Kindergarten Daily Lesson Log – 2nd Quarter
Grade 1 Daily Lesson Log – 3rd Quarter
Grade 2 Daily Lesson Log – 3rd Quarter
Grade 3 Daily Lesson Log – 3rd Quarter
Grade 4 Daily Lesson Log – 3rd Quarter
Grade 5 Daily Lesson Log – 3rd Quarter
Grade 6 Daily Lesson Log – 3rd Quarter
See Also:
More Files uploaded Weekly. Bookmark this page for instant access. Just Press CTRL + D in your keyboard to add this page to your bookmarks.
Also Available!
IMPORTANT GUIDE:
MORE DOWNLOADABLE FILES
Activities for Students | Classroom Observation Tools | Daily Lesson Log | Diagnostic Test | Exams | Inspirational Stories | Instructional Materials | Learners Material | Periodical Tests | Powerpoint Presentations | RPMS | Short Stories | Summative Tests | Weekly Daily Lesson Log | Weekly Home Learning Plan | Weekly Learning Plan | Workbooks
/ Learning Materials / Learners Materials / Instructional Materials
We are always on the process of uploading new files.
For additional updates and unannounced uploads, please visit this section from time to time.
Like us on Facebook to get INSTANT UPDATES. CLICK HERE
You can also BOOKMARK this page in your web browser by clicking Ctrl+D in your keyboard for faster access in the future. Thank you fellow Teachers.
We at DepEd Teachers Club are always grateful to all our File Authors and File Contributors. Credit goes to all of them. Let us all give them thanks and show our support for all their works.
We are also thankful for all our File Editors, Sharers, Tech Volunteers and fellow Teachers for helping us and making this kind of service possible.