In the pursuit of assisting teachers in the creation of lessons that possess a distinct and engaging identity, one that resonates with the students' understanding, usability and relatability, we at DepEd Teachers' Club have committed ourselves to an ongoing effort of uploading our readily available resource files such as these Week 1 DLL August 29 – September 1, 2023 | 1st Quarter Daily Lesson Log files. These resources encompass an abundance of pre-prepared materials designed to empower teachers in planning their instructional content to be more meaningful and relevant to the diverse student population they serve.
The importance of this initiative lies in DepEd Club's desire to bridge the gap between teaching and learning by providing a repository of DepEd educational resources that make it easier to seamlessly incorporate relevant knowledge into the teaching process. By utilizing our DepEd Club's pre-made educational files, teachers can incorporate materials into their courses that not only complement each student's distinct learning preferences and areas of interest but also meet a range of needs and skill levels.
DepEd Club's commitment to creating an environment where teachers have the tools they need to develop deeper connections between the subject matter and the students' personal experiences is demonstrated by the regular posting of these educational resources. Because students are able to relate to the courses on a level that goes beyond merely learning knowledge, learning becomes more interesting and successful.
DepEd Club's dedication to offering ready-made instructional files is evidence of our faith in the effectiveness of individualized, relatable, and student-centered instruction. By assisting teachers in designing classes with a distinct identity, we help to build a comprehensive learning environment that not only provides students with knowledge but also enhances their whole educational experience.
We at DepEd Club are grateful to all of our Contributors, File Editors, and Tech Volunteers who worked sacrificially and without hesitation to manage the content of our website and social media accounts. Thank you to everyone for your continued support.
As we embark on a new adventure with fresh kids and unanticipated difficulties in this upcoming School Year 2023 – 2024, we'll stick together as a strong DepEd Teachers Club.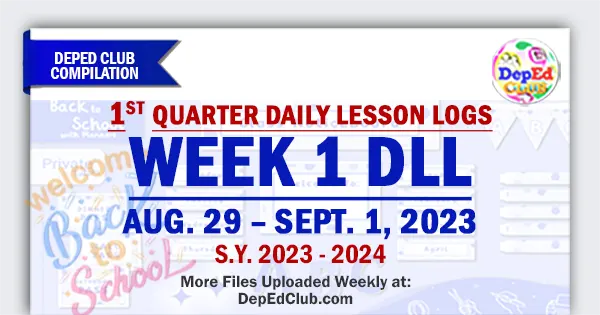 Week 1 DLL August 29 – September 1, 2023 |
1st Quarter Daily Lesson Log
Kindergarten Daily Lesson Log – 1st Quarter
Grade 1 Daily Lesson Log – Week 1 – 1st Quarter
Grade 2 Daily Lesson Log – Week 1 – 1st Quarter
Grade 3 Daily Lesson Log – Week 1 – 1st Quarter
Grade 4 Daily Lesson Log – Week 1 – 1st Quarter
Grade 5 Daily Lesson Log – Week 1 – 1st Quarter
Grade 6 Daily Lesson Log – Week 1 – 1st Quarter
NOW AVAILABLE!
Also Available !
IMPORTANT GUIDE:
MORE DOWNLOADABLE FILES
Activities for Students | Classroom Observation Tools | Daily Lesson Log | Diagnostic Test | Exams | Inspirational Stories | Instructional Materials | Learners Material | Periodical Tests | Powerpoint Presentations | RPMS | Short Stories | Summative Tests | Weekly Daily Lesson Log | Weekly Home Learning Plan | Weekly Learning Plan | Workbooks
We are always on the process of uploading new files.
For additional updates and unannounced uploads, please visit this section from time to time.
Like us on Facebook to get INSTANT UPDATES. CLICK HERE
You can also BOOKMARK this page in your web browser by clicking Ctrl+D in your keyboard for faster access in the future. Thank you fellow Teachers.
We at DepEd Teachers Club are always grateful to all our File Authors and File Contributors. Credit goes to all of them. Let us all give them thanks and show our support for all their works.
We are also thankful for all our File Editors, Sharers, Tech Volunteers and fellow Teachers for helping us and making this kind of service possible.