President Rodrigo Duterte has signed into law a bill providing basic mental health services down to the barangay level while increasing the capacities of mental health professionals, his top aide said Thursday.
Special Assistant to the President Christopher "Bong" Go confirmed that the President approved Republic Act 11036, or the Philippine Mental Health Law, a measure that was shepherded in the Senate by opposition Senator Risa Hontiveros.
Hontiveros' office said Duterte enacted the bill on Wednesday.
The senator said the law will integrate mental healthcare in the country's public healthcare system.
"Help is here"
"Every day, seven Filipinos turn to suicide. One in five Filipino adults also suffer from a form of mental disorder. The Mental Health Law cements the government's commitment to a more holistic approach to healthcare: without sound mental health there can be no genuine physical health," Hontiveros said in a statement.
"No longer shall Filipinos suffer silently in the dark. The people's mental health issues will now cease to be seen as an invisible sickness spoken only in whispers. Finally, help is here," she added.
For presidential spokesperson Harry Roque, the signing of RA 11036 is "a testament of the President's commitment to provide accessible and affordable mental health care and services to all Filipinos.??"
"We hope this policy will help neutralize the stigma attached to mental illness," Roque said.
"Implementing a universal mental healthcare system in the country would provide more awareness regarding mental health among Filipinos, especially given the rising number of suicide cases among the youth."
Aside from providing mental health services to the barangays, the law will secure the rights and welfare of persons with mental health needs and mental health professionals; integrate psychiatric, psychosocial, and neurologic services in regional, provincial, and tertiary hospitals; improve mental healthcare facilities; and promote mental health education in schools and workplaces.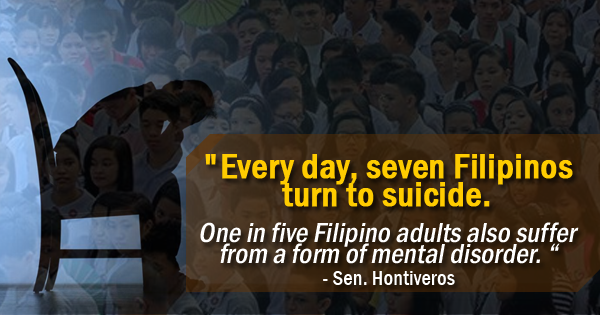 Other senators laud signing 
Senator JV Ejercito lauded the signing the bill into law.
"I'm very happy to hear that.  I would like to thank the President for that. It's a very significant piece of legislation especially at this point now that there are a lot of depression cases and some suicide cases," he said during the weekly Kapihan sa Senado.
Senator Juan Edgardo Angara, one of the authors, commended Duterte, saying that the law will be a huge step in making mental health care more affordable, accessible and equitable.
"We renew our call to PhilHealth to cover fees for psychiatric consultations and medicines, as early intervention and prevention is crucial in treating mental illness," he said in a press statement.
He said under the Mental Health Act, PhilHealth must "ensure that insurance packages equivalent to those covering physical disorders of comparable impact are available to patients affected by mental disorders."
He said currently, PhilHealth only covers hospitalization brought about by acute attacks of mental and behavioral disorders at a package rate of P7,800.
"We hope that in the drafting of the IRR, free psychiatric consultations and medicines shall be made available for all Filipinos," he said.
Angara said with the Mental Health Law, the public can now paint a clearer picture of a Philippines where every citizen is able to maintain a stable emotional balance to handle daily tasks.
"We hope that this law will help Filipinos overcome the stigma of mental illness, and enable them to seek professional help. This law gives people with mental health problems and their families the opportunity to hope for better lives," he said.
Source: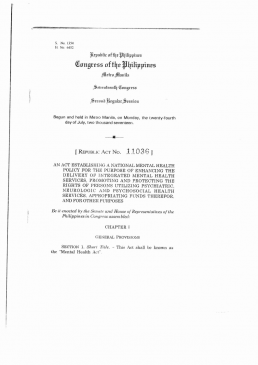 Was this helpful? Like and Share for others too.