To assist teachers with their classroom design to encourage students in becoming more engaged with the lessons that are currently being taught and those that will be taught in the coming days, we have uploaded our Grade 1 Bulletin Board Displays – 2nd Quarter.
Why Use Bulletin Board Displays?
Classroom design is improved by utilizing bulletin board displays. They have the power to make the classroom more cheerful, engaging, and entertaining. This alone has the potential to directly affect students' motivation and, in turn, their learning. Materials for bulletin board displays might contain helpful direct teaching tools including anatomical models, numerical lines, and alphabet letters.
Bulletin boards displays can improve teacher's effectiveness. These materials may include additional teaching tools that only augment or support what is being presented, illuminating the information. The alphabet and number lines are two examples of handy reference material that can be displayed on bulletin boards to promote student learning. They may contain details that are crucial for pupils to remember, like number tables, formulas, spellings, and other crucial factual information.
Drills can be conducted using classroom displays. Simply by being exposed and available for seeing, students will also begin to understand the subject. The classroom can be configured for a new educational topic using bulletin board displays. To pique students' interest in a subject that will be taught, the teacher can exhibit some engaging materials. If the subject matter was aquatic animals, some eye-catching images and diagrams concerning these creatures might be shown before the lecture even starts—possibly even days beforehand.
A theme or a piece of classwork can be mostly based on a classroom display. They may be used as a tool for reporting on and documenting completed work. Classroom displays may be a component of an ongoing project. Displays can be utilized to pique students' interest and stimulate them. To encourage students to read, books can be placed on a shelf and opened at an engaging page. Designing a classroom is meant to inspire instructors to consider new ideas for classroom displays. The individualistic socio emotional learning of kids is supported by the educational and social resources on bulletin boards.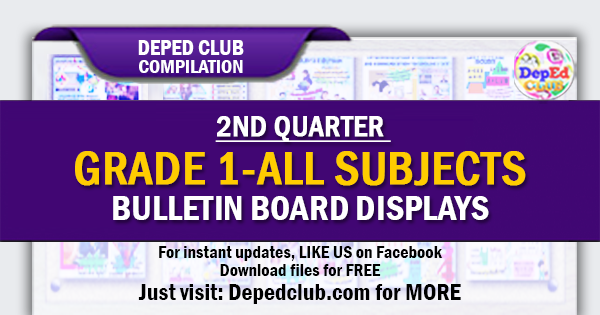 More! Grade 1 Bulletin Board Displays – 2nd Quarter
2nd Quarter – Grade 1 Bulletin Board Displays
IMPORTANT GUIDE:
MORE DOWNLOADABLE FILES
We are always on the process of uploading new files.
For additional updates and unannounced uploads, please visit this section from time to time.
Like us on Facebook to get INSTANT UPDATES. CLICK HERE
You can also BOOKMARK this page in your web browser by clicking Ctrl+D in your keyboard for faster access in the future. Thank you fellow Teachers.
We at DepEd Teachers Club are always grateful to all our File Authors and File Contributors. Credit goes to all of them. Let us all give them thanks and show our support for all their works.
We are also thankful for all our File Editors, Sharers, Tech Volunteers and fellow Teachers for helping us and making this kind of service possible.