To help teachers with their classroom design and to help their students pique their interests with the current and upcoming lessons, we have uploaded our Kindergarten Bulletin Board Displays – 2nd Quarter.
What Justifies the Use of Bulletin Board Displays?
Any teaching method that involves pupils doing things while also reflecting on what they are doing is called active learning. Students are encouraged to share ideas and values, and higher order thinking skills like analysis and synthesis are demanded of them rather than memorization, all of which are characteristics of active learning practices. This includes classroom displays or bulletin board displays that encourage pupils to work at their best. They can arouse the interest of students and boost their involvement.
A key element that can either foster or deter student participation is classroom design. According to classroom space and its effect on engagement, the design of the classroom space is a physical representation of educational beliefs. This is referred to as constructed pedagogy. Given the idea that certain forms of social action and interaction are enabled by specific constructed settings, and others are constrained by them, educational structures naturally embody curricula and values.
Constructs that promote or restrict involvement are developed inside a classroom design. To give children something extra to do during downtime, employ bulletin board displays. This might be accomplished with a challenge of the day. Most pupils won't be able to resist attempting to solve it! The usage of classroom displays can help to improve classroom management. Lists of customs, obligations, chores, and regulations may be included. Directions, labels, and instructions can all be a part of them. Records keeping may include displays. They can be used to keep track of student and class progress as well as lessons learned. They may also document student honors like extra points. Classroom displays might be employed to let others know what the class is doing. This can apply to different teachers or other students from a different class.
The bulletin board display must be modified in light of the fact that pupils change from year to year. Consequently, a display that is appropriate in one class arrangement could not be in another. The design of the display and its goals such as educational display show what stresses individualized elements or display that is intended to beautify and establish the classroom's atmosphere. Another concern is on the teacher's preferred method of using the display; examples include displays that compile rules, explain subjects, and involve students in active learning. Only after evaluating the display's contents can one consider its visual elements because each sort of display would have unique characteristics.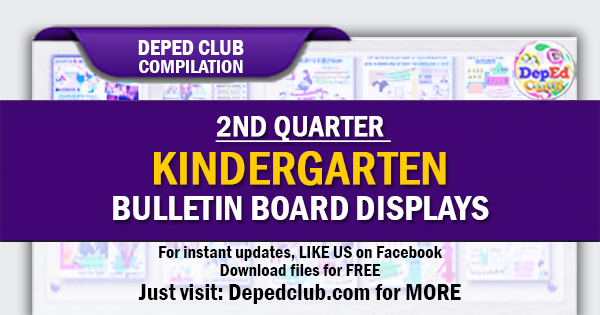 Kindergarten Bulletin Board Displays – 2nd Quarter
2nd Quarter – Kindergarten Bulletin Board Displays
IMPORTANT GUIDE:
MORE DOWNLOADABLE FILES
We are always on the process of uploading new files.
For additional updates and unannounced uploads, please visit this section from time to time.
Like us on Facebook to get INSTANT UPDATES. CLICK HERE
You can also BOOKMARK this page in your web browser by clicking Ctrl+D in your keyboard for faster access in the future. Thank you fellow Teachers.
We at DepEd Teachers Club are always grateful to all our File Authors and File Contributors. Credit goes to all of them. Let us all give them thanks and show our support for all their works.
We are also thankful for all our File Editors, Sharers, Tech Volunteers and fellow Teachers for helping us and making this kind of service possible.