To help teachers with their classroom design that could entice students in exploring additional learning opportunities, we have uploaded our Grade 5 Bulletin Board Displays – 2nd Quarter.
Classroom Design and Learning Space
Students gain knowledge by doing and by actively interacting with the resources, tools, and other students in their learning space. A setting for the best learning can be created by designing a physical place that takes into account kids' developmental needs. The teacher's approach to guiding a student's growth and establishing the standards for student participation are both influenced by the selection and arrangement of the classroom resources in the learning environment. The context in which children learn and educational philosophy should be complementary. A classroom design that is physically designed for developmentally appropriate learning offers opportunities for reading, writing, listening, art, arithmetic, science, technology, and a space for bulletin board displays.
An essential part of organizing and designing the classroom design and classroom display is making sure that there is a balance between these different learning spaces. While classroom design may vary, these learning zones should be included so that kids may learn to navigate around the space on their own to use the tools and supplies. Individual, small-group, and whole-group participation that strikes a balance between teacher- and student-initiated activities should be anticipated in the physical environment.
Learning spaces will alter as the school year progresses to reflect the interests, projects, and classroom displays of the students. Key subject areas including reading, writing, listening, math, and science may continue to be taught all through the primary school years, but other subjects may change depending on the curriculum's requirements.
Students should be given significant time each day to engage in learning activities in these areas. This might involve a rotational approach that gives students the chance to choose how they want to study depending on the designated learning areas. In the learning spaces, it's crucial to introduce items gradually and to give students time to get to know them so they can comprehend why they are there. The daily schedule and organizational structure of the classroom should give students a sense of security while encouraging and enticing them to take initiatives and cooperate with others to become self-assured and independent learners.
It's important to take the materials on exhibit into account when designing the classroom's physical layout. Avoid using displays on bulletin boards that obstruct student study areas. By featuring exhibits of children's work, a beautiful setting honors and values the work of children. This gives pupils a chance to feel appreciated for what they bring to the classroom design to which they belong. Teachers have a lot of work to do and students may be overstimulated by cluttered walls. Sometimes less is more.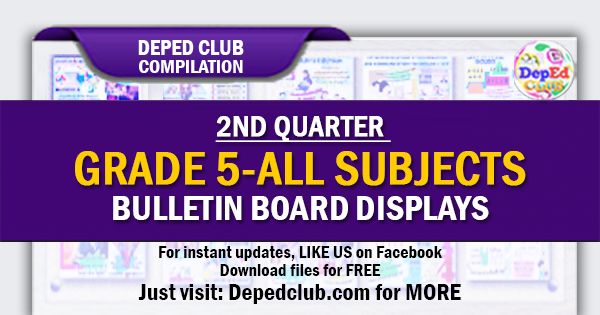 More! Grade 5 Bulletin Board Displays – 2nd Quarter
2nd Quarter – Grade 5 Bulletin Board Displays
IMPORTANT GUIDE:
MORE DOWNLOADABLE FILES
We are always on the process of uploading new files.
For additional updates and unannounced uploads, please visit this section from time to time.
Like us on Facebook to get INSTANT UPDATES. CLICK HERE
You can also BOOKMARK this page in your web browser by clicking Ctrl+D in your keyboard for faster access in the future. Thank you fellow Teachers.
We at DepEd Teachers Club are always grateful to all our File Authors and File Contributors. Credit goes to all of them. Let us all give them thanks and show our support for all their works.
We are also thankful for all our File Editors, Sharers, Tech Volunteers and fellow Teachers for helping us and making this kind of service possible.