To help teachers in in creating lesson plans that require active engagement from students as well as appropriate levels of critical analysis and problem-solving, we are constantly uploading our ready-made Week 5 – Quarter 3 Daily Lesson Log | March 13-17, 2023 DLL Update! Our long-term goal is to consistently update and publish our ready-made weekly K–12 Daily Lesson Logs. Just visit this page regularly for the latest uploads.
We are grateful to all of our Contributors, File Editors, and Tech Volunteers who worked sacrificially and without hesitation to manage the content of our website and social media accounts. Thank you to everyone for your continued support.
Creating Lesson Plans
The teacher outlines in a lesson plan what the class will cover and how it will be done in an efficient manner. The class meeting's learning objectives must be determined before teachers may develop their lesson plan. They can then create the right learning activities and come up with methods for getting information about the progress of the students. These crucial elements—objectives for student learning, teaching/learning activities, and ways to assess student understanding—are addressed and integrated in a lesson plan that is successful.
Having clear learning objectives for students will help teachers choose the types of teaching and learning activities they will utilize in the classroom, and those activities will also specify how they will assess if the learning objectives have been met.
One cannot rely on chance to deliver teaching that complies with all applicable criteria. The depth, breadth, and instructional approaches of the subject must be planned.
To assess a course's rigor, consider its depth of information. Depth of knowledge can be used as advice when formulating goals and objectives for lesson plans that demand active participation from students as well as suitable degrees of critical analysis and problem-solving.
The particular outcomes envisioned for students at the conclusion of a class are called goals and objectives. Goals and objectives must be specified carefully in order to create and implement successful instruction and assessment. Goals and objectives won't be useful if fundamental guidelines aren't followed when articulating them.
The aims of the course should be congruent with the instructional objectives. They shouldn't contain anything that isn't pertinent to the instruction.
Effective teaching objectives, also known as performance objectives or behavioral objectives, should have the following qualities:
They are clear and precise—they spell out exactly what the student is expected to perform.
They are outcome-based; they describe what the student should be able to achieve once the lesson is over; they have nothing to do with how the education was delivered. Different persons should have the same idea of the desired outcome; aims should not be hidden by extraneous information.
They are quantifiable; they define learning outcomes that can be evaluated (to what extent the behavior must be performed).
They talk about how students behave and what they ought to be able to do once the lesson is over.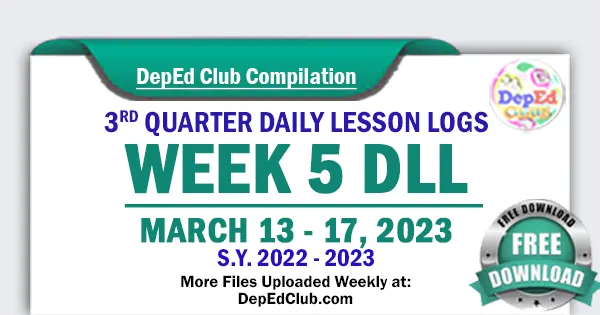 Week 5 – Quarter 3 Daily Lesson Log |
March 13-17, 2023 DLL Update!
Kindergarten Daily Lesson Log – 2nd Quarter
Grade 1 Daily Lesson Log – 3rd Quarter
Grade 2 Daily Lesson Log – 3rd Quarter
Grade 3 Daily Lesson Log – 3rd Quarter
Grade 4 Daily Lesson Log – 3rd Quarter
Grade 5 Daily Lesson Log – 3rd Quarter
Grade 6 Daily Lesson Log – 3rd Quarter
See Also:
More Files uploaded Weekly. Bookmark this page for instant access. Just Press CTRL + D in your keyboard to add this page to your bookmarks.
Also Available!
IMPORTANT GUIDE:
MORE DOWNLOADABLE FILES
Activities for Students | Classroom Observation Tools | Daily Lesson Log | Diagnostic Test | Exams | Inspirational Stories | Instructional Materials | Learners Material | Periodical Tests | Powerpoint Presentations | RPMS | Short Stories | Summative Tests | Weekly Daily Lesson Log | Weekly Home Learning Plan | Weekly Learning Plan | Workbooks
/ Learning Materials / Learners Materials / Instructional Materials
We are always on the process of uploading new files.
For additional updates and unannounced uploads, please visit this section from time to time.
Like us on Facebook to get INSTANT UPDATES. CLICK HERE
You can also BOOKMARK this page in your web browser by clicking Ctrl+D in your keyboard for faster access in the future. Thank you fellow Teachers.
We at DepEd Teachers Club are always grateful to all our File Authors and File Contributors. Credit goes to all of them. Let us all give them thanks and show our support for all their works.
We are also thankful for all our File Editors, Sharers, Tech Volunteers and fellow Teachers for helping us and making this kind of service possible.