To help teachers in developing lesson plans, enhancing certain aspects of their instruction, and evaluating the efficacy of their instructional strategies, we are constantly uploading our ready-made Week 4 – Quarter 3 Daily Lesson Log | March 6-10, 2023 DLL Update! Our long-term goal is to consistently update and publish our ready-made weekly K–12 Daily Lesson Logs. Just visit this page regularly for the latest uploads.
We are grateful to all of our Contributors, File Editors, and Tech Volunteers who worked sacrificially and without hesitation to manage the content of our website and social media accounts. Thank you to everyone for your continued support.
Action Research
It is reasonable to begin action research when teachers have put their lesson plans into practice. Teachers can use a variety of techniques called "action research" to enhance some areas of their instruction or to assess the effectiveness and appropriateness of particular tasks and methods.
Action research is an extended academic approach that produces action for improving methods of instruction and learning continuously. It offers teachers quick classroom reparation and provides documentation of fulfilling teachers' educational obligations. It aims to record the circumstances, transformation, learning that results, and theorizing that academic staff engage in when creating their instructional strategies.
Action research is a process used by teachers to evaluate their practice collaboratively, communicate a shared conception of values, spread awareness of their personal theories, experiment with new methods to make their practice more consistent with the educational values they support, record their work in a way that other teachers can easily access and understand, and develop a common theory of teaching by scientific inquiry.
Action research projects are occasionally started by teachers who are concerned about a situation and want to figure out what they can do about it. Teachers conduct action research to learn more about why specific events occur and what may occur if an alternative course of action were taken. When teachers decide on a topic for investigation, such as learning more about their students' motivations and challenges, action research can begin.
The effectiveness of their teaching, how they come across to their students, and how they would see themselves if they were watching themselves teach are all things that teachers might wish to learn more about. They could want to determine whether an activity would be more successful when carried out in groupings rather than in pairings or whether comprehension is more successful with or without vocabulary instruction beforehand.
Teachers should make decisions regarding the following steps after collecting the data and analyzing the outcomes. Alternately, after resolving one challenge, teachers may concentrate on another and reopen the procedure for that issue.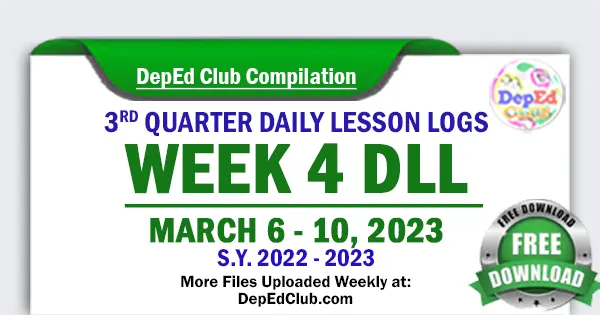 Week 4 – Quarter 3 Daily Lesson Log |
March 6-10, 2023 DLL Update!
Kindergarten Daily Lesson Log – 2nd Quarter
Grade 1 Daily Lesson Log – 3rd Quarter
Grade 2 Daily Lesson Log – 3rd Quarter
Grade 3 Daily Lesson Log – 3rd Quarter
Grade 4 Daily Lesson Log – 3rd Quarter
Grade 5 Daily Lesson Log – 3rd Quarter
Grade 6 Daily Lesson Log – 3rd Quarter
See Also:
More Files uploaded Weekly. Bookmark this page for instant access. Just Press CTRL + D in your keyboard to add this page to your bookmarks.
Also Available!
IMPORTANT GUIDE:
MORE DOWNLOADABLE FILES
Activities for Students | Classroom Observation Tools | Daily Lesson Log | Diagnostic Test | Exams | Inspirational Stories | Instructional Materials | Learners Material | Periodical Tests | Powerpoint Presentations | RPMS | Short Stories | Summative Tests | Weekly Daily Lesson Log | Weekly Home Learning Plan | Weekly Learning Plan | Workbooks
/ Learning Materials / Learners Materials / Instructional Materials
We are always on the process of uploading new files.
For additional updates and unannounced uploads, please visit this section from time to time.
Like us on Facebook to get INSTANT UPDATES. CLICK HERE
You can also BOOKMARK this page in your web browser by clicking Ctrl+D in your keyboard for faster access in the future. Thank you fellow Teachers.
We at DepEd Teachers Club are always grateful to all our File Authors and File Contributors. Credit goes to all of them. Let us all give them thanks and show our support for all their works.
We are also thankful for all our File Editors, Sharers, Tech Volunteers and fellow Teachers for helping us and making this kind of service possible.