To help teachers acquire the necessary learning materials that are in line with the K to 12 curriculum for their lesson planning and preparation, we have uploaded our compiled and easy to download 3rd Quarter Learners Materials | K to 12 Learning Materials.
Guidelines for Creating Successful Learning Materials
The use of instructional materials has been noted as a potent method for fostering efficient teaching and learning. Through their efficient use in classroom education, instructional materials can be used to demonstrate the significance of quality and sufficient resources in learning and instruction. All the resources that teachers can utilize to make learning more engaging and lasting are included in instructional materials.
Contextualizing learning materials to subjects, themes, and realities is a viable option. Learning materials need to generate opportunities for students to interact with one another outside of the classroom. This could be the vehicle for advancement. Learning resources should offer chances for self-evaluation so that students can create their own learning preferences and techniques. Learning materials should connect teachers and students to foster comprehension, improve learning abilities, and provide possibilities.
Making wise judgments for the interests of the students when choosing learning materials is not arbitrary. Any text can be broken or cut up into sections and then reorganized to meet the needs, skills, interests, and perceptions of the students making up a course. Rather than being the course by itself, a text is merely a tool. As a result, textbooks can be altered to include exercises that motivate students and push them beyond the bounds of the textbook.
Learning materials created by teachers enhance students' abilities and inventiveness. The most crucial teaching tools are learning materials because they give students a comfortable atmosphere in which to learn and enable them to participate in the teaching and learning process. While not a complete method of instruction, teaching materials do help with learning. It need not be required in every class and subject. It can be used by a teacher based on student needs and relevant topics. Using too many resources in a lecture can divert students' attention from the main subject and have unfavorable effects.
Learning materials are particularly crucial when learning anything new since they help students form the right mental images and foster an engaging environment that makes learning simple and understandable. Because the teacher can conduct lessons quickly and explain the principles of chapters, it helps to boost their knowledge and streamline the course. All of the class's students can actively engage and relate the subject to actual life circumstances thanks to the learning materials.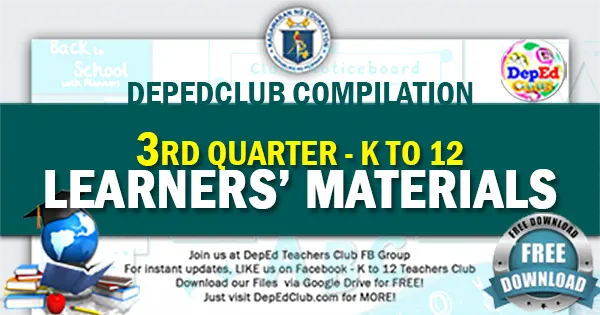 3rd Quarter Learners Materials / K to 12 Learning Materials
These instructional materials were collaboratively developed and reviewed by educators from public and private schools, colleges, and/or universities. Please Share.
/ Learning Materials / Learners Materials / Instructional Materials
IMPORTANT GUIDE:
MORE DOWNLOADABLE FILES
Activities for Students | Classroom Observation Tools | Daily Lesson Log | Diagnostic Test | Exams | Inspirational Stories | Instructional Materials | Learners Material | Periodical Tests | Powerpoint Presentations | RPMS | Short Stories | Summative Tests | Weekly Daily Lesson Log | Weekly Home Learning Plan | Weekly Learning Plan | Workbooks
/ Learning Materials / Learners Materials / Instructional Materials
We are always on the process of uploading new files.
For additional updates and unannounced uploads, please visit this section from time to time.
Like us on Facebook to get INSTANT UPDATES. CLICK HERE
You can also BOOKMARK this page in your web browser by clicking Ctrl+D in your keyboard for faster access in the future. Thank you fellow Teachers.
We at DepEd Teachers Club are always grateful to all our File Authors and File Contributors. Credit goes to all of them. Let us all give them thanks and show our support for all their works.
We are also thankful for all our File Editors, Sharers, Tech Volunteers and fellow Teachers for helping us and making this kind of service possible.