Good day fellow Teachers. More Grade 3 PowerPoint Presentations – 1st Quarter are now available. Thanks to all our File Creators, Contributors and Files Editors for sharing these files. More files to be uploaded soon. Thank you!
>>>Good reasons to use PowerPoint.
Why should you consider using PowerPoint for your teaching and learning activities? There are many reasons but the key ones include:
Appropriate use of PowerPoint can enhance the teaching and learning experience for both teacher and students
It provides encouragement and support to teacher by facilitating the structuring of a presentation in a professional manner.
By careful mixing of media, a presentation can appeal to a number of different learning styles and be made more stimulating
The electronic file format allows distribution and modification for/by students unable to be present or who have impaired visual or auditory difficulties
Editing of each PowerPoint file is very easy with minimal associated reprinting costs. This ease and potential immediacy of revision facilitates reflection upon, and evolution of, teaching materials by teacher whilst minimising the consequences of any revision in terms of either workload or time.
The portability of the files, especially on USB with their large capacity, allows presentations to be given wherever the technology is available or distributed where appropriate. Presentations can also be set up to run automatically if required e.g. as demonstrations/instructions.<<<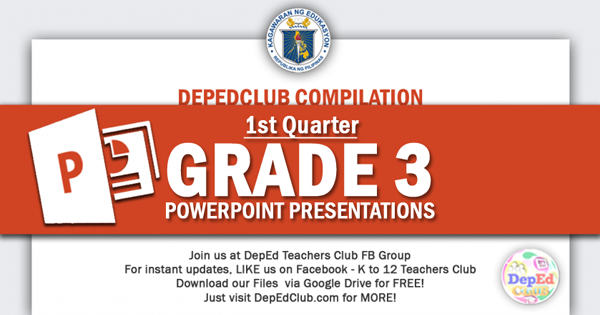 Grade 3 PowerPoint Presentations – 1st Quarter
ARALING PANLIPUNAN 3 PowerPoint Presentations
ART 3 PowerPoint Presentations
ENGLISH 3 PowerPoint Presentations
EDUKASYON SA PAGPAPAKATAO (ESP) 3 PowerPoint Presentations
FILIPINO
HEALTH 3 PowerPoint Presentations
MATHEMATICS 3 PowerPoint Presentations
MTB 3 PowerPoint Presentations
MUSIC 3 PowerPoint Presentations
PHYSICAL EDUCATION 3 PowerPoint Presentations
SCIENCE 3 PowerPoint Presentations
IMPORTANT: HOW TO DOWLOAD FILES IN GOOGLE DRIVE
FOR MS OFFICE FILES:
1. Click on the file link in our website.
2. You will be redirected to the file location via Google Drive.
3. On the upper left side of your screen, Go to FILE menu. Click DOWNLOAD, then Select Microsoft Word for the editable file format.
FOR OTHER FILES:
1. On the upper right hand corner of your screen, look for this button to Download the file —>

If you encounter an Error while downloading the files, please Log-in to your Gmail account (Here – mail.google.com) , then try again to click the Download Link in Google Drive. Thank you.
Additional files to be uploaded soon.
We are always on the process of uploading new files.
For additional updates and unannounced uploads, please visit this section from time to time.
Like us on Facebook to get INSTANT UPDATES. CLICK HERE
You can also BOOKMARK this page in your web browser by clicking Ctrl+D in your keyboard for faster access in the future. Thank you fellow Teachers.
We at DepEd Teachers Club are always grateful to all our File Authors and File Contributors. Credit goes to all of them. Let us all give them thanks and show our support for all their works.
We are also thankful for all our File Editors, Sharers, Tech Volunteers and fellow Teachers for helping us and making this kind of service possible.
Thank you!
MORE DOWNLOADABLE FILES