Good day fellow Teachers. More Grade 2 PowerPoint Presentations – 1st Quarter are now available. Thanks to all our File Creators, Contributors and Files Editors for sharing these files. More files to be uploaded soon. Thank you!
>>>PowerPoint Presentation is a useful teaching tool that provides added value for both the teacher and the students. Carefully prepared, well-designed and is appropriately used during the flow of the class PowerPoint Presentation helps students to stay focused, on track and enhances teacher instruction.

A multimedia rich presentation gives the teacher the opportunity to make presentations more interesting that promote added attention and enable a powerful learning environment. With Interactive presentations, it encourages engagement which promotes learning. It is also useful in showing visuals which would otherwise be difficult to bring to class.

PowerPoint Presentations can be used to prepare lessons and presentations by helping teachers refine their teaching material to significant topics and content. Lessons can be typed in outline format which can then be refined as PowerPoint slides. Using PowerPoint can address students' learning preferences through the projection of: color, images, video and shapes for visual learners; sound and music for auditory learners; and interactive slides which ask students to do something for learners which involve group or class activities where students can practice or review concepts.<<<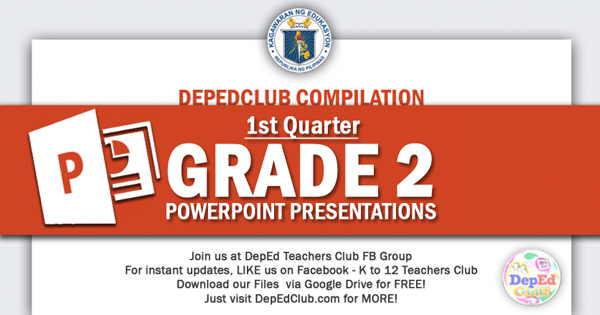 Grade 2 PowerPoint Presentations – 1st Quarter
ARALING PANLIPUNAN 2 PowerPoint Presentations
ART 2 PowerPoint Presentations
ENGLISH 2 PowerPoint Presentations
EDUKASYON SA PAGPAPAKATAO (ESP) 2 PowerPoint Presentations
FILIPINO 2 PowerPoint Presentations
HEALTH 2 PowerPoint Presentations
MATHEMATICS 2 PowerPoint Presentations
MTB 2 PowerPoint Presentations
MUSIC 2 PowerPoint Presentations
PHYSICAL EDUCATION 2 PowerPoint Presentations
IMPORTANT: HOW TO DOWLOAD FILES IN GOOGLE DRIVE
FOR MS OFFICE FILES:
1. Click on the file link in our website.
2. You will be redirected to the file location via Google Drive.
3. On the upper left side of your screen, Go to FILE menu. Click DOWNLOAD, then Select Microsoft Word for the editable file format.
FOR OTHER FILES:
1. On the upper right hand corner of your screen, look for this button to Download the file —>

If you encounter an Error while downloading the files, please Log-in to your Gmail account (Here – mail.google.com) , then try again to click the Download Link in Google Drive. Thank you.
Additional files to be uploaded soon.
We are always on the process of uploading new files.
For additional updates and unannounced uploads, please visit this section from time to time.
Like us on Facebook to get INSTANT UPDATES. CLICK HERE
You can also BOOKMARK this page in your web browser by clicking Ctrl+D in your keyboard for faster access in the future. Thank you fellow Teachers.
We at DepEd Teachers Club are always grateful to all our File Authors and File Contributors. Credit goes to all of them. Let us all give them thanks and show our support for all their works.
We are also thankful for all our File Editors, Sharers, Tech Volunteers and fellow Teachers for helping us and making this kind of service possible.
Thank you!
MORE DOWNLOADABLE FILES