Good day fellow Teachers. More Grade 5 PowerPoint Presentations – 1st Quarter are now available. Thanks to all our File Creators, Contributors and Files Editors for sharing these files. More files to be uploaded soon. Thank you!
>>>Some Tips on Preparing PowerPoint Presentations
Creating PowerPoint Presentations consumes a lot of time and effort. That's why it's important to invest for its design and development. Here are some ways to improve your presentation.
PowerPoint Slide content
Avoid text-dense slides. Use brief points instead of long sentences or paragraphs. It's better to have more slides than trying to place too much text on one slide. As a rule of thumb, plan to show one slide per minute to account for discussion and time and for students to absorb the material.
Use PowerPoint to cue and guide the presentation rather than project long and complete sentences. Reduce redundant or text heavy sentences or bullets to ensure a more professional appearance
Relate PowerPoint material to course objectives to reinforce their purpose.
Emphasize your PowerPoint content
Use italics, bold and color for emphasizing content. Avoid using underlines for emphasis which typically signifies hypertext in digital media.
Use of a light background (white, beige, yellow) with dark typeface or a dark background (blue, purple, brown) with a light typeface is easy to read in a large room.
Consider using different color slide backgrounds to change the pace of the presentation (or when you shift to new major content).
Typeface
Use a sans serif typeface such as Arial, Helvetica, or Tahoma. Limit the number of typeface styles to no more than two per slide.
Ensure the typeface is large enough to read from anywhere in the room: titles and headings should be no less than 36-40 points.
The subtext should be no less than 32 points. Clip art and graphics
Use clip art and graphics sparingly. Research shows that it's best to use graphics only when they support the content. Photographs can be effectively used to add realism. Size and place graphics appropriately on the slide.
Animation and sound
Add motion, sound, or music only when necessary. When in doubt, do without! Excessive movement within or between slides can interfere with the message and can be annoying. Avoid or use only simple screen transitions.
Final check
Check for spelling, correct word usage, flow of material and overall appearance of the presentation.Colleagues can be especially helpful to check your presentation for accuracy and appeal. Note: Typos are more obvious when they are projected.Schedule at least one practice session to check for timing and flow.<<<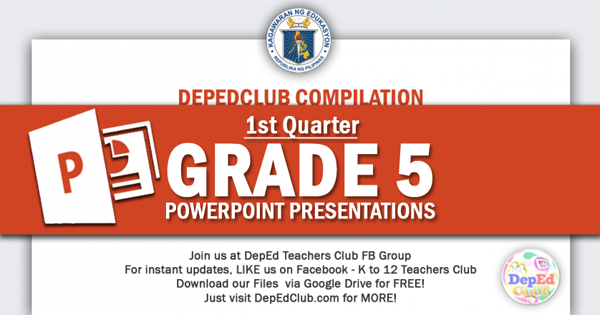 Grade 5 PowerPoint Presentations – 1st Quarter
ARALING PANLIPUNAN 5 PowerPoint Presentations
ENGLISH 5 PowerPoint Presentations
EPP 5 PowerPoint Presentations
ESP 5 PowerPoint Presentations
FILIPINO 5 PowerPoint Presentations
MATHEMATICS 5 PowerPoint Presentations
SCIENCE 5 PowerPoint Presentations
IMPORTANT: HOW TO DOWLOAD FILES IN GOOGLE DRIVE
FOR MS OFFICE FILES:
1. Click on the file link in our website.
2. You will be redirected to the file location via Google Drive.
3. On the upper left side of your screen, Go to FILE menu. Click DOWNLOAD, then Select Microsoft Word for the editable file format.
FOR OTHER FILES:
1. On the upper right hand corner of your screen, look for this button to Download the file —>

If you encounter an Error while downloading the files, please Log-in to your Gmail account (Here – mail.google.com) , then try again to click the Download Link in Google Drive. Thank you.
Additional files to be uploaded soon.
We are always on the process of uploading new files.
For additional updates and unannounced uploads, please visit this section from time to time.
Like us on Facebook to get INSTANT UPDATES. CLICK HERE
You can also BOOKMARK this page in your web browser by clicking Ctrl+D in your keyboard for faster access in the future. Thank you fellow Teachers.
We at DepEd Teachers Club are always grateful to all our File Authors and File Contributors. Credit goes to all of them. Let us all give them thanks and show our support for all their works.
We are also thankful for all our File Editors, Sharers, Tech Volunteers and fellow Teachers for helping us and making this kind of service possible.
Thank you!
MORE DOWNLOADABLE FILES