Good day fellow Teachers. More Grade 1 PowerPoint Presentations – 1st Quarter are now available. Thanks to all our File Creators, Contributors and Files Editors for sharing these files. More files to be uploaded soon. Thank you!
PowerPoint is an excellent aid to presentations providing each presentation is considered first from a pedagogical viewpoint while bearing in mind the different ways in which students learn and largely trying to avoid the pitfalls of passive knowledge transmission. These problems, of course, are not specifically associated with PowerPoint use but it does have a tendency to make some practitioners feel that the improvements offered by PowerPoint are sufficient to make their presentations more effective. When used appropriately, it does encourage teachers, for the sake of a relatively shallow learning-curve, to improve the professionalism and quality of their didactic sessions and facilitates the development and evolution of more interactive and flexible practices. It soon becomes obvious that didactic use represents only a very basic level of practice
PowerPoint is much more powerful and flexible than that and alternative activities can be facilitated by its use, limited only by the creativity of the user. Consider combining media where necessary although you should use multimedia from within PowerPoint cautiously. <<<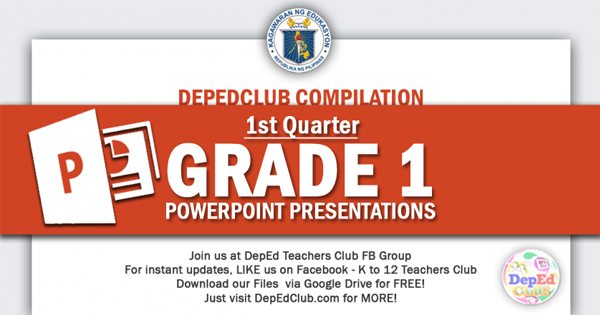 Grade 1 PowerPoint Presentations – 1st Quarter
ARALING PANLIPUNAN 1 PowerPoint Presentations
EDUKASYON SA PAGPAPAKATAO (ESP) 1 PowerPoint Presentations
FILIPINO 1 PowerPoint Presentations
MAPEH 1 PowerPoint Presentations
MATH 1 PowerPoint Presentations
MTB 1 PowerPoint Presentations
IMPORTANT: HOW TO DOWLOAD FILES IN GOOGLE DRIVE
FOR MS OFFICE FILES:
1. Click on the file link in our website.
2. You will be redirected to the file location via Google Drive.
3. On the upper left side of your screen, Go to FILE menu. Click DOWNLOAD, then Select Microsoft Word for the editable file format.
FOR OTHER FILES:
1. On the upper right hand corner of your screen, look for this button to Download the file —>

If you encounter an Error while downloading the files, please Log-in to your Gmail account (Here – mail.google.com) , then try again to click the Download Link in Google Drive. Thank you.
Additional files to be uploaded soon.
We are always on the process of uploading new files.
For additional updates and unannounced uploads, please visit this section from time to time.
Like us on Facebook to get INSTANT UPDATES. CLICK HERE
You can also BOOKMARK this page in your web browser by clicking Ctrl+D in your keyboard for faster access in the future. Thank you fellow Teachers.
We at DepEd Teachers Club are always grateful to all our File Authors and File Contributors. Credit goes to all of them. Let us all give them thanks and show our support for all their works.
We are also thankful for all our File Editors, Sharers, Tech Volunteers and fellow Teachers for helping us and making this kind of service possible.
Thank you!
MORE DOWNLOADABLE FILES