Good day fellow Teachers. More Grade 6 PowerPoint Presentations – 1st Quarter are now available. Thanks to all our File Creators, Contributors and Files Editors for sharing these files. More files to be uploaded soon. Thank you!
>>>PowerPoint saves time and energy. Once the presentation has been created, is easy to update and can be modified for other lessons. It is portable and can be easily shared with students and colleagues. It also supports multimedia such as video, audio, images and animation.

Advantages of PowerPoint Presentations

PowerPoint Presentations produce better visual effects and deeper impression. The contents of a science lecture is often abstract, sometime they are hardly to explain using chalkboard. However, by presenting PowerPoint slides inserted with pictures, flow charts, schematics, animations, even video clips, the lecture may become vivid and attractive to students.

PowerPoint Presentations speeds up the information transfer. In a PowerPoint presentation, the teacher can deliver more information than by traditional lecture. The amount of information transferred in a traditional lecture is often limited by the writing speed of the instructor on chalkboard. But in a PowerPoint presentation, all outlines were typed previously in slides. Especially, when instruction of science courses need to present large amount of data, using PowerPoint could significantly increase the efficacy of a lecture. Compared with chalkboard-writing in traditional lecture, a PowerPoint file can be easily copied, maintained, transferred and printed.

To students, the file maybe available on-web before or after the class, and may thus be previewed or reviewed. This may be the most appreciated feature of PowerPoint. PowerPoint presentation saves time for students with learning differences that require more time to take notes, because they may download PowerPoint files from web and obtain organized notes or handouts and accurately drawn graphs. Therefore, PowerPoint may enhance the performance of students at class.

PowerPoint Presentations are more precise and more systematic. A well-prepared PowerPoint may present students with more precise contents of topics. Before presentation, by editing or reviewing the PowerPoint file, the teacher has enough time to check term spelling, expression of a conception or a theory, logicality of formula derivation, as well as the precision of numbers and data, etc. To students, this is essential for correct and accurate comprehension of topics. After class, by collecting feedback from the students, the teacher could easily optimize PowerPoint slides to fit the students by editing slides. On the other hand, PowerPoint slides may be systemically organized. The clear outline could be helpful for students to construct correct knowledge in mind.<<<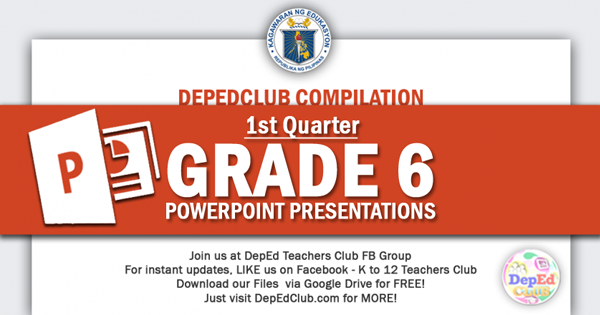 Grade 6 PowerPoint Presentations – 1st Quarter
ARALING PANLIPUNAN 6 PowerPoint Presentations
ENGLISH 6 PowerPoint Presentations
ESP 6 PowerPoint Presentations
FILIPINO 6 PowerPoint Presentations
MAPEH 6 PowerPoint Presentations
MATHEMATICS 6 PowerPoint Presentations
New Contributions from our DepEd Club Member!
SCIENCE 6 PowerPoint Presentations
IMPORTANT: HOW TO DOWLOAD FILES IN GOOGLE DRIVE
FOR MS OFFICE FILES:
1. Click on the file link in our website.
2. You will be redirected to the file location via Google Drive.
3. On the upper left side of your screen, Go to FILE menu. Click DOWNLOAD, then Select Microsoft Word for the editable file format.
FOR OTHER FILES:
1. On the upper right hand corner of your screen, look for this button to Download the file —>

If you encounter an Error while downloading the files, please Log-in to your Gmail account (Here – mail.google.com) , then try again to click the Download Link in Google Drive. Thank you.
Additional files to be uploaded soon.
We are always on the process of uploading new files.
For additional updates and unannounced uploads, please visit this section from time to time.
Like us on Facebook to get INSTANT UPDATES. CLICK HERE
You can also BOOKMARK this page in your web browser by clicking Ctrl+D in your keyboard for faster access in the future. Thank you fellow Teachers.
We at DepEd Teachers Club are always grateful to all our File Authors and File Contributors. Credit goes to all of them. Let us all give them thanks and show our support for all their works.
We are also thankful for all our File Editors, Sharers, Tech Volunteers and fellow Teachers for helping us and making this kind of service possible.
Thank you!
MORE DOWNLOADABLE FILES