"Each new day is an invitation to an adventure of your own making."
― Steven Redhead, Life Is a Dance
Good day fellow Teachers!  We've been together for three years now. We had a lot of struggles in our beloved profession but we made it to this new school year together – supporting and sharing our knowledge for the welfare of each other. We are always there for each other as we dream of a smooth and productive school year. Together we will withstand any challenges. And now, we have uploaded our Week 2 – 4th Quarter Daily Lesson Log | January 27 – 31, 2020 DLL
Thanks to all our Contributors, File Editors and Tech Volunteers who selflessly manage our website contents as well as our social media accounts. Thanks to all of you for your continued support and your collective ideas.
And now as we start on another journey with our students and new challenges that are yet to come, we shall stick together as one – a solid DepEd Teachers Club!
No Teacher left behind.
This week's news that matter:
DepEd Personnel to Receive Full Service Recognition Bonus
An official of the Department of Education (DepEd) assured that its qualified personnel – both teaching and non-teaching – will still receive the remaining of their Service Recognition Incentive (SRI).

DepEd Undersecretary for Finance Service and Education Programs Delivery Unit Annalyn Sevilla, in a Facebook post, gave an update on the remaining balance of SRI which is targeted at P3,000 for each qualified DepEd personnel.

"The remaining balance of SRI will be uniform in amount for all DepEd employees," Sevilla said. "The process is taking some time because we want to ensure all DepEd personnel will be given the same amount (and we are aiming for 3k for all) and we will provide the funding for all schools, divisions and regions including the CO [Central Office)," she added.

In December, qualified employees of the DepEd received P7,000 after the Office of the President issued Administrative Order No. 19, series of 2019 which authorizes the grant of SRI at a "uniform amount" not exceeding P10,000 for each government employee for Fiscal Year 2019.

In a memorandum issued by her office dated December 4, 2019, Sevilla said that qualified employees of DepEd were scheduled to receive an SRI amounting to P7,000 not earlier than December 20, 2019. This amount, she explained , "shall be released to all qualified DepEd employees" not earlier than the stated date. The qualified DepEd personnel may also receive an additional amount of P3,000-SRI. However, this may be issued at a later date. In another memo by Sevilla dated December 17, the DepEd reiterated the provision under Section 4 of the AO No. 19 pertaining to the funding source of the SRU for employees in the Executive Departments.

Sevilla explained that the Miscellaneous Personnel Benefits Fund (MPBF) under the FY General Appropriations Act (GAA) to fund a portion of the SRI in the amount of P7,000 per employee. Meanwhile, she clarified that the available released Personnel Services (PS) allotments of the agency for the remaining P3,000 for each employee. "And in the event that the available released PS allotments are insufficient to fully cover the P3,000 per employees, a lower but uniform amount be paid to all qualified employees of the agency," she added.

Meanwhile, Sevilla assured the concerned employees that they will still receive the remaining SRIs. "Don't worry if your school, division or region doesn't have the sufficient PS savings to cover the P3,000," she said. "We will collect available PS funds and share to all," she added.

Sevilla also asked the concerned personnel to "wait a little longer" as the DepEd is "almost done consolidating all available PS savings from 2019." Once this process is completed, she assured that DepEd "will download the allotment available to pay for the remaining P3,000."

Earlier, Sevilla explained that the the P7,000-SRI was "charged" to allotment and cash released by the Department of Budget and Management (DBM). Meanwhile, the remaining P3,000 will sourced from the available released PS allotments of the agency.

"Inasmuch as we are still in the process of pooling the available PS savings as generated by all DepEd operating units to cover the P3,000 portion of the SRI per employee to arrive at a uniform rate to all DepEd teaching and non-teaching employees in the actual payment thereof, the payment of the P7,000 portion of the SRI per employee, which is chargeable against MPBF, shall be made first considering that the funds for the purpose will be released by the DBM," Sevilla explained.

As per DBM, Sevilla explained that the proposed tapping of the "unreleased" PS allotments to fund the P3,000 portion of the SRI per employee is "no longer feasible" since the AO 19 s. 2019 "explicitly provides that it should be sourced from the released PS allocations only." The payment of such portion of the incentive, she added, "shall be decided through a separate memorandum as soon" as her office "determines the actual PS savings to be pooled and distributed per operating unit."

Sevilla reiterated that the grant of the SRI was something "unexpected." Thus, she urged all DepEd employees to "appreciate the effort" of President Duterte, and cabinet secretaries who approved this incentive, and all DepEd finance officers "who will identify funding sources."
Source:
By Merlina Hernando-Malipot
Published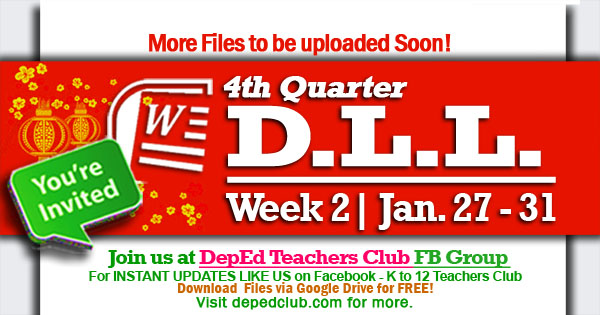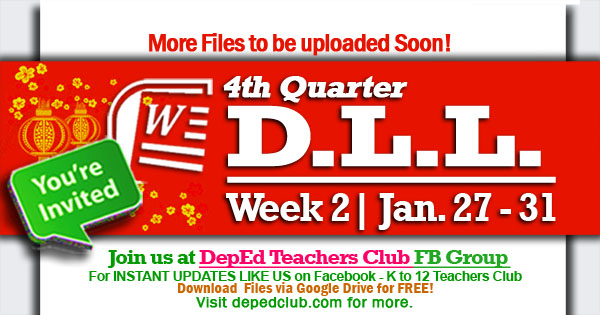 Week 2 – 4th Quarter Daily Lesson Log
January 27 – 31, 2020 DLL
Additional files to be uploaded soon. Other Grades' DLL files are already uploaded. You may check them now.
We are always on the process of uploading new files.
For additional updates and unannounced uploads, please visit this section from time to time.
Like us on Facebook to get INSTANT UPDATES. CLICK HERE
You can also BOOKMARK this page in your web browser by clicking Ctrl+D in your keyboard for faster access in the future. Thank you fellow Teachers. 
We at DepEd Teachers Club are always grateful to all our File Authors and File Contributors. Credit goes to all of them. Let us all give them thanks and show our support for all their works.
We are also thankful for all our File Editors, Sharers, Tech Volunteers and fellow Teachers for helping us and making this kind of service possible.