"You can cut all the flowers but you cannot keep Spring from coming."
― Pablo Neruda
Good day fellow Teachers!  We've been together for three years now. We had a lot of struggles in our beloved profession but we made it to this new school year together – supporting and sharing our knowledge for the welfare of each other. We are always there for each other as we dream of a smooth and productive school year. Together we will withstand any challenges. And now, we have uploaded our Week 3 – 4th Quarter Daily Lesson Log | February 3 – 7, 2020 DLL
Thanks to all our Contributors, File Editors and Tech Volunteers who selflessly manage our website contents as well as our social media accounts. Thanks to all of you for your continued support and your collective ideas.
And now as we start on another journey with our students and new challenges that are yet to come, we shall stick together as one – a solid DepEd Teachers Club!
No Teacher left behind.
This week's news that matter:
DepEd Statement on the Novel Coronavirus (nCoV)
DepEd regards the nCoV as a matter of serious and urgent concern. We stand ready to contribute to the overall Philippine government efforts for the management of this public health situation, and look to DOH for guidance on how we can best help. At this point, the situation is unfolding, and we do not want to contribute to any confusion, panic or false information.

Even before the confirmation of the first nCoV case, DepEd Secretary Briones has been calling on schools and coordinating with DOH officials for the implementation of DOH guidelines, particularly on any decision for any school lockdown in specific communities should a need arise. Secretary Briones is calling on DepEd officials in the affected regions to cooperate with the DOH teams who are now engaged in the task of tracing individuals who were in contact with and may have been exposed to the confirmed patient during her visit.  This is for the benefit not only of our schools and learners but of the communities as well.  The Secretary has been in direct communication with the DOH Secretary as well as the health officers in the affected regions and communities visited by the confirmed patient since last night.

We direct the regions and schools to continue extending their fullest cooperation to DOH on the nCoV situation. On a general level, what the DepEd has at present are efforts to promote awareness and precautionary measures for schools and their immediate communities, using the information materials from DOH. Our local units are also instructed to coordinate with their DOH counterparts. These directives were communicated through various means, such as a January 24, 2020 advisory from the office of the Undersecretary for Administration.

In light of the confirmation of one case and a number of patients under investigation, as announced by DOH, as well as the reported declaration by the WHO of the nCoV as a Public Health Emergency of International Concern, available DepEd Execom members will have a meeting this morning on the matter. In the meeting, we will consolidate available information from official sources, and discuss further actions, measures and mechanisms for readiness and response. We will also send observers to any meeting that the government Inter-agency Task Force may have. We have also expanded the coverage of the work of the Taal Quick Response and Recovery Team to include the nCoV matter.

We will provide further updates this afternoon.
Source:
Published: January 31, 2020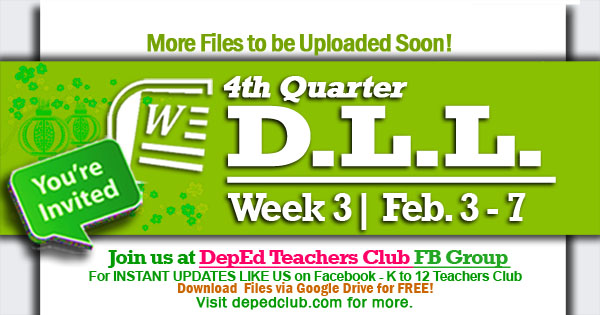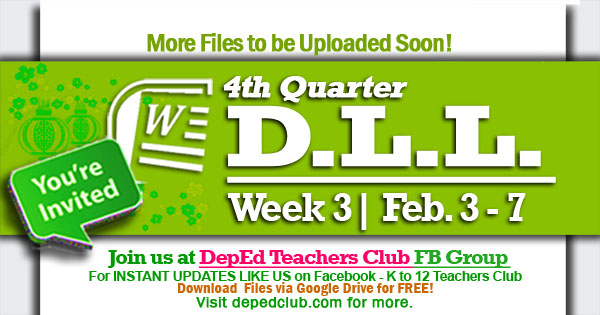 Week 3 – 4th Quarter Daily Lesson Log
February 3 – 7, 2020 DLL
Additional files to be uploaded soon. Other Grades' DLL files are already uploaded. You may check them now.
We are always on the process of uploading new files.
For additional updates and unannounced uploads, please visit this section from time to time.
Like us on Facebook to get INSTANT UPDATES. CLICK HERE
You can also BOOKMARK this page in your web browser by clicking Ctrl+D in your keyboard for faster access in the future. Thank you fellow Teachers. 
We at DepEd Teachers Club are always grateful to all our File Authors and File Contributors. Credit goes to all of them. Let us all give them thanks and show our support for all their works.
We are also thankful for all our File Editors, Sharers, Tech Volunteers and fellow Teachers for helping us and making this kind of service possible.