"There is a crack in everything.
That's how the light gets in."
― Leonard Cohen
Good day fellow Teachers!  We've been together for three years now. We had a lot of struggles in our beloved profession but we made it to this new school year together – supporting and sharing our knowledge for the welfare of each other. We are always there for each other as we dream of a smooth and productive school year. Together we will withstand any challenges. And now, we have uploaded our Week 1 – 4th Quarter Daily Lesson Log | January 20 – 24, 2020 DLL
Thanks to all our Contributors, File Editors and Tech Volunteers who selflessly manage our website contents as well as our social media accounts. Thanks to all of you for your continued support and your collective ideas.
And now as we start on another journey with our students and new challenges that are yet to come, we shall stick together as one – a solid DepEd Teachers Club!
No Teacher left behind.
This week's news that matter:
Starting February 1 until March 6, 2020, the Department of Education (DepEd) is set to open its Early Registration desks for the incoming Kindergarten, Grades 1, 7 and 11 learners for school year 2020-2021 in public and private elementary and secondary schools nationwide.

Through DepEd Order (DO) No. 3, s. 2018, otherwise known as the "Basic Education Enrollment Policy," Sec. Briones stated that early registration seeks to locate, identify and register out-of-school children and youth in the community who may be characterized as: living with disability/ies, living in off-grid/far-flung community; a barangay without a school, or a geographically isolated area; displaced due to natural disaster; living in an armed conflict area or area with high level of criminality/drug abuse; having chronic illness or nutritional problem/s; victim of child abuse or economic exploitation; stateless/undocumented; in conflict with the law; living on the streets; and no longer in school but interested in going back to school. Read more >>
Education Secretary Leonor Briones on Friday called on local governments to spare schools from being used as evacuation centers during calamities.

"Panahon pa ng Mayon, sinasabi na namin na sana iwasan na ang paggamit ng school buildings as evacuation centers para hindi ma-interrupt ang classes. Kailangan makapaghanap sila ng lugar kung saan makapagpatayo ng temporary learning shelters gaya ng sa Marawi (Even during the Mayon eruption, we said the use of school buildings as evacuation centers must be avoided so that classes won't be interrupted. They must find a place where temporary learning shelters can be put up, just like in Marawi)," Briones told reporters on the sidelines of the launch of the "Duterte Legacy" campaign in Pasay City.

Since last weekend's eruption of the Taal Volcano, classes have remained suspended in the provinces of Cavite and Batangas, and some parts of Laguna.

Meanwhile, Metro Manila and some local government units in Central Luzon suspended classes on Monday and Tuesday as ashfall from the volcano reached these areas.

"Wala silang pasok ngayon, may gap (The learners don't have classes, there is a gap). This is why we're trying to solve the problem of the learners whose classes have been suspended by negotiating with the local governments. Batangas alone has more than 120 schools, 168 schools for the entire region, including six private schools," Briones said.

According to the Department of Education's latest report, about 7,895 schools in 58 divisions with 7,228,468 learners have been affected by the Taal Volcano eruption. Read more >>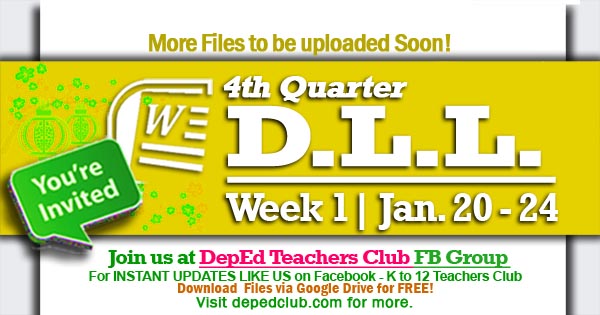 Week 1 – 4th Quarter Daily Lesson Log
January 20 – 24, 2020 DLL
Additional files to be uploaded soon. Other Grades' DLL files are already uploaded. You may check them now.
We are always on the process of uploading new files.
For additional updates and unannounced uploads, please visit this section from time to time.
Like us on Facebook to get INSTANT UPDATES. CLICK HERE
You can also BOOKMARK this page in your web browser by clicking Ctrl+D in your keyboard for faster access in the future. Thank you fellow Teachers. 
We at DepEd Teachers Club are always grateful to all our File Authors and File Contributors. Credit goes to all of them. Let us all give them thanks and show our support for all their works.
We are also thankful for all our File Editors, Sharers, Tech Volunteers and fellow Teachers for helping us and making this kind of service possible.