After a unit or period, summative assessments and summative tests are used to measure student learning and the effectiveness of the teacher's instruction. It has very specific evaluation standards. Summative assessments classify, identify, and evaluate progress after a teaching program or at the end of the term by evaluating the course, the educational program's validity, and educational research.
To determine a mark or grade, the teacher uses summative assessment (also known as summative tests) to determine what the students can remember about the course material. It enables the teacher to evaluate or summarize what the students have learnt.
According to the guidelines of the Department of Education's curriculum, summative tests are administered. It is a curriculum standard test, which is a widely used metric to assess pupils' level of knowledge. The framework of what is taught and what will be examined is used to create these summative assessments, often known as accomplishment tests. It assesses and gauges the level of understanding that pupils have attained following a learning time.
In order to decide whether to stick with the current approach or try something new, teachers might compare the grades of the current class of pupils with those of previous classes. This evaluation supports educators in timely program improvement and appropriate classroom adjustments. Teachers can use the test results to inform their next teaching strategy because summative assessments offer extremely precise quantitative data for analysis in the classroom.
Summative assessment information can help teachers identify teaching issues and modify their lesson plans and delivery strategies. In the interim, it can assist students in identifying their learning challenges and modifying their learning goals and strategies.
Summative evaluation occurs frequently in class for all students, not just those who take outside assessments. Regular class assignments, informal assessment tasks, and in-class tests are routinely graded by teachers, who also commonly provide feedback in the form of grades. Sometimes grading criteria are complex, combining effort and performance in connection to standards for individuals or standards for the class, while other times grading systems are straightforward and tied to clear conceptions of what is "right."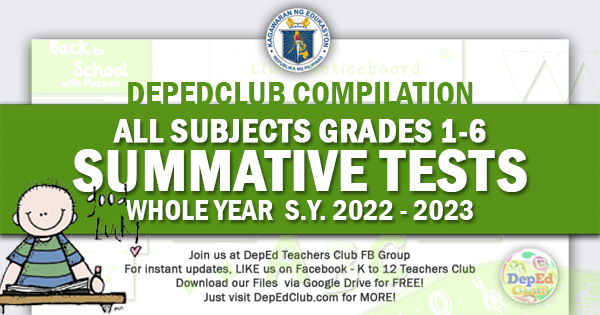 1st Quarter All Subjects Summative Tests
MORE DOWNLOADABLE FILES
IMPORTANT: HOW TO DOWLOAD FILES IN GOOGLE DRIVE
FOR MS OFFICE FILES:
1. Click on the file link in our website.

2. You will be redirected to the file location via Google Drive.

3. On the upper left side of your screen, Go to FILE menu. Click DOWNLOAD, then Select Microsoft Word for the editable file format.
FOR OTHER FILES:
1. On the upper right hand corner of your screen, look for the Down Arrow Download Button just as below:

If you encounter an Error while downloading the files, please Log-in to your Gmail account (Here – mail.google.com) , then try again to click the Download Link in Google Drive. Thank you.
Additional files to be uploaded soon.
We are always on the process of uploading new files.
For additional updates and unannounced uploads, please visit this section from time to time.
Like us on Facebook to get INSTANT UPDATES. CLICK HERE
You can also BOOKMARK this page in your web browser by clicking Ctrl+D in your keyboard for faster access in the future. Thank you fellow Teachers.
We at DepEd Teachers Club are always grateful to all our File Authors and File Contributors. Credit goes to all of them. Let us all give them thanks and show our support for all their works.
We are also thankful for all our File Editors, Sharers, Tech Volunteers and fellow Teachers for helping us and making this kind of service possible.