Here is our compiled Grade 3 Summative Tests – Whole Year.
We intend to finish all K–12 Summative Tests – All Subjects / Achievement Tests and make them available to teachers so they can categorize, identify, and assess the level of mastery of their students' development at the conclusion of a teaching program or a term.
Additional student assessment tools will soon be uploaded. The Grade 3 Summative Tests – Whole Year files can be found at the end of this post.
Summative Assessment
How do you choose which summative assessment methods and tools to employ?

Teachers must decide what the goal of the summative assessment is. Teachers must consider all of the unit's objectives and results before starting a unit of study in order to decide what kinds of proof they will require to show the students' learning. In order to determine the level of mastery of their students with reference to particular curriculum outcomes, they should think about how they might collect that data throughout the unit. The necessity to triangulate one's evidence through interactions, observations, and products should be in the forefront of a teacher's consciousness.

SUMMATIVE ASSESSMENT EVIDENCE

Contrary to formative assessment evidence, which examines the learning process, summative assessment evidence examines the final product of student comprehension. To ascertain what pupils know and comprehend about a curriculum outcome, teachers should employ a range of evidence. All of the students in the class will benefit from having their needs met by using a number of assessment procedures for gathering evidence and giving them a choice of products to demonstrate their comprehension. Any product that students choose should be accompanied by clear instructions on how to demonstrate mastery.

There has been much discussion of teachers' assessment management abilities. Assessment literacy refers to the abilities of teachers to conduct assessments. Skills are related to teachers' understanding of test development and analysis, as well as their familiarity with pertinent background data.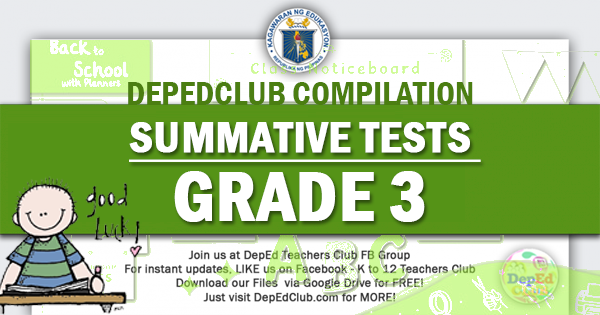 Grade 3 Summative Tests – 1st Quarter
Coming Soon!
Grade 3 Summative Tests – 2nd Quarter
Grade 3 Summative Tests – 3rd Quarter
Grade 3 Summative Tests – 4th Quarter
MORE DOWNLOADABLE FILES