Here is our compiled Grade 4 Summative Tests – Whole Year. In order to help teachers evaluate what the students can recall about the course material and provide a grade, we strive to complete all of the K–12 Summative Tests – All Subjects / Achievement Tests. It enables the teacher to evaluate or summarize what the students have learnt.
Additional student assessment tools will soon be uploaded. The Grade 4 Summative Tests – Whole Year files can be found at the end of this post.
Summative Assessment
Summative assessment, such as the Grade 4 Summative Tests, tries to document or communicate the pupils' progress. Summative evaluation, in other words, serves as a reflection of prior knowledge acquired by students. Summative evaluation is a type of judgment that compiles all the data up to a specific moment. This specified point may be a period of time during an examination or test. A summary of the student's learning suggests looking back and evaluating how well the student has met goals, but it does not always indicate how future advancements will be made. It's critical to note that summative evaluation emphasizes past achievement but does not provide guidance on how to raise students' performance in the future.

Summative assessment is a type of assessment that tells teachers whether their pupils are succeeding or failing in their learning process based on a numerical scale. The only measure that might not accurately reflect pupils' proficiency at a particular moment in time is a numerical scale.

While summative assessment prioritizes instructors as the primary authorities and simply documents the previous development of the students, it does not provide teachers with the opportunity to evaluate their own methods and then reevaluate their instruction in light of the needs of their students. Therefore, in light of the aforementioned criteria, summative assessment can be defined as the act of keeping track of students' progress up to a certain point on a numerical scale with the intention of looking back and taking stock of how students have accomplished the objectives.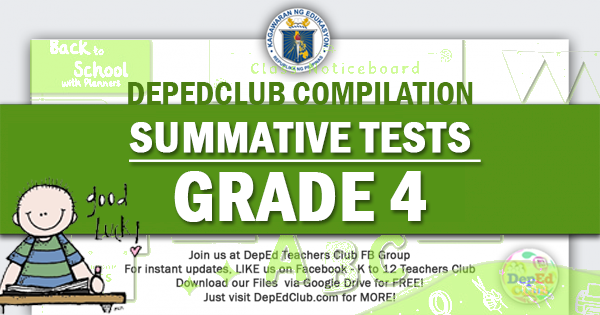 Grade 4 Summative Tests – 1st Quarter
Coming Soon!
Grade 4 Summative Tests – 2nd Quarter
Grade 4 Summative Tests – 3rd Quarter
Grade 4 Summative Tests – 4th Quarter
MORE DOWNLOADABLE FILES