DepEd moves to provide internet connectivity, e-classrooms in schools
As part of its commitment to continuously improve the teaching and learning processes for the benefit of the Filipino learners, the Department of Education (DepEd) shared its plans to provide every school in the country with internet connectivity.
Undersecretary for Administration Alain Pascua highlighted the importance of maximizing the use of available technologies in the classroom during a recent press conference held at Juan Sumulong High School in Quezon City.
"We are eyeing the implementation of the DepEd Internet Connectivity Program which will be first implemented in five pilot regions. We have allotted P1 billion fund for the said program and we'll be trying all platforms and devices to deliver internet connectivity to schools such as broadband, satellite, etc" Usec Pascua stated.
The Undersecretary further mentioned the initiative to put up "e-classrooms" in schools that will convert traditional blackboards into digital boards where teachers and learners can play educational videos, presentations, and the like.
These efforts will be fulfilled in conjunction with the DepEd Computerization Program (DCP) which aims to raise the information and communications technology (ICT) literacy of learners, teachers, and school heads by integrating ICT in the school system and providing information technology (IT) equipment to schools nationwide.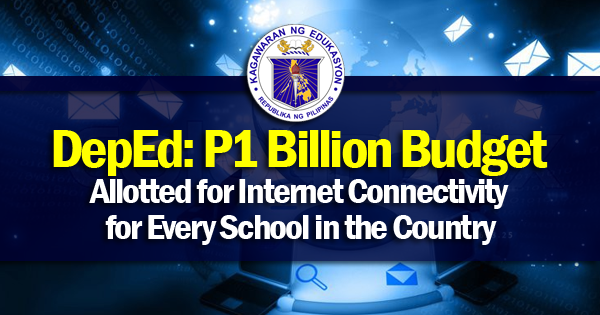 DepEd Computerization Program
In the same press conference, Usec. Pascua explained that all DCP units have offline version of learning materials which the learners and teachers may access in the absence of internet connectivity.
"Yung computers na idi-distribute, mayroon na yang nakapasok sa hard disk na offline version nung portal ng DepEd, may mga learning materials na rin po na naka-save doon. So kahit walang internet, mayroon na siyang resources kaagad na maa-access," he elaborated.
Moreover, Department of the Interior and Local Government (DILG) Assistant Secretary Jonathan Malaya underscored the vital role of security personnel in ensuring the sound implementation of this program, which Philippine National Police (PNP) Director Eduardo Serapio Garado seconded.
"We are encouraging the local government units (LGUs) and the barangays to support DepEd in its desire to secure all these different ICT equipment which are to be delivered to schools. We will be issuing a memorandum circular to all the local government officials to provide schools with security personnel that will assist the school in securing these ICT equipment," Malaya mentioned.
Garado ensured that the police community fully supports the program and will be active in handling cases of robbery of these DCP packages, if there will be such.
Both the DILG and PNP officials lauded the new mechanism developed by the Department which made the DCP-issued devices blue to indicate that the packages are government property and the possession of such outside of public schools can be grounds for prosecution.
Importance of ICT
Education Secretary Leonor Magtolis Briones said that it is high time to train our children in the use of ICT systems, "This will further sharpen their analytical capacities, help them in solving problems, and keep them up with the demands of the world outside—whether it is university studies or the world of work."
The Education chief further expressed her gratitude to all DepEd partners, civil society groups, and private sector and individuals, who are donating computers and are helping out in capacitating not only the learners but also the teachers and staff who are taking care of these computers packages.
Source: