Eligible personnel of the Department of Education (DepEd) may already apply for the Government Service Insurance System (GSIS) Financial Assistance Loan (GFAL) Program beginning May 15 in all GSIS offices nationwide, except the Autonomous Region in Muslim Mindanao (ARMM).
This follows last month's ceremonial signing of the GFAL Memorandum of Agreement (MOA) between the two government agencies represented by Secretary Leonor Magtolis Briones and GSIS President and General Manager Jesus Clint Aranas in the presence of President Rodrigo Duterte in Malacañang.
GFAL is the result of more than a year of negotiations between DepEd, led by Undersecretary for Finance-Disbursements and Accounting Victoria Catibog, and GSIS, led by GSIS-NCR Operations Senior Vice President Nora Saludares. With hundreds of thousands of public school teachers and employees whose monthly loan payments have been affected by over-borrowing and who may run the risk of losing their retirement or separation benefits, the need to address this concern became urgent.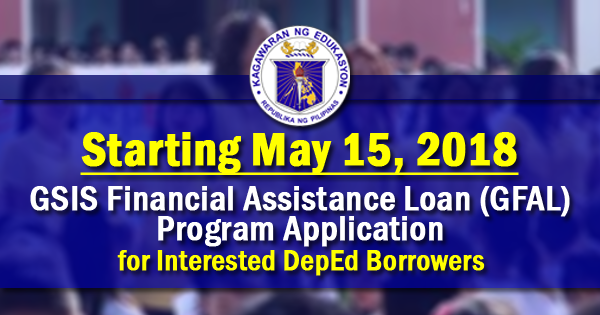 The GFAL will allow eligible DepEd teaching and non-teaching personnel to refinance their outstanding loans with private lending institutions (PLIs) accredited under DepEd's Automatic Payroll Deduction System (APDS). The program aims to:
a) improve the financial capability of DepEd personnel; and
b) provide an affordable loan package to enable DepEd personnel to take out or refinance their outstanding loans with the APDS accredited PLIs through the GSIS.
It offers a competitive rate at 6% per annum on a longer loan term of up to six years.
Interested DepEd borrowers who choose to have their outstanding loans with PLIs refinanced through GFAL may file their application at a GSIS branch nearest to their respective work stations.
DepEd encourages prospective borrowers to complete all the documentary requirements before going to GSIS. Only complete applications will be accepted and processed by GSIS.
As GFAL is aimed at improving the financial capability of DepEd personnel, it requires all applicants to attend a financial literacy seminar in GSIS after the submission of complete documentary requirements. Furthermore, all applicants shall undergo a loan evaluation and counseling process prior to the signing of loan documents.
For a detailed list of documentary requirements and application procedure, enclosed is a step-by-step guide provided by GSIS.
Questions or clarifications must be directed to the GSIS Call Center at (02) 847-4747; or Globe toll-free number at 1-800-8-847-4747 (free from both Globe landline and mobile phone); or PLD/Smart toll-free number at 1-800-10-847-4747 (free from PLDT landline and a flat rate of P8 per call from mobile phone).
Source:
Press Release – May 12, 2018
Read More: