UPDATE: Multi-Grade Budget of Work has been uploaded. Additional versions of Budget of Work for different grades was also included in this update.
Budget of Work (BOW) is a resource material for teaching multigrade classes that contains K to 12 basic education curriculum competencies, skills, and objectives; topics for specific skills and competencies; and teaching strategies, activities, and time allotment arranged into columns for easy reference and notation. It will serve as teacher's reference in preparing daily and/or weekly lesson plans.
Consistent with its mandate to improve access to elementary education particularly in the far-flung, isolated and poor communities, the DepEd through the Bureau of Elementary Education (BEE) launched the Multigrade Program in Philippine Education (MPPE) in 1993. The Department's first initiative for MPPE was to improve the conditions of the MG education in the country through training programs, curriculum development and development of appropriate learning materials.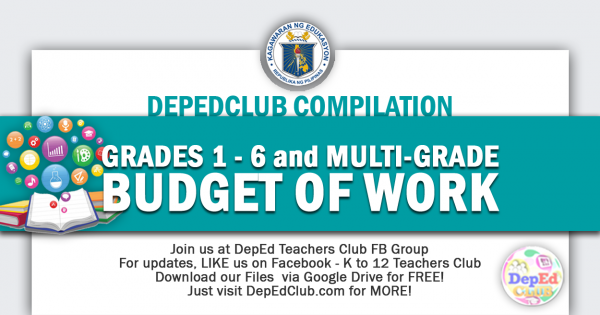 Anchored on the Basic Education Act of 2013, Republic Act (RA) No. 10533, the DepEd is strengthening the implementation of Multigrade Program in Philippine Education (MPPE) through clearly defined standards, mechanisms and processes in the organization of multigrade classes, adoption of multigrade teaching as well as content of the curriculum, mode of instruction, provision of education resources, administration of assessment, development of pupils and teachers, incentives and benefits of teachers, creation of appropriate learning environment, and monitoring and supervision of schools.
Budget of Work Download Links
GRADE 1 Budget Of Work
Additional:
Additional:
MAPEH
GRADE 2 Budget Of Work
GRADE 3 Budget Of Work
GRADE 4 Budget Of Work
Additional:
GRADE 5 Budget Of Work
Additional:
GRADE 6 Budget Of Work
Additional:
Additional:
MULTI-GRADE BUDGET OF WORK
ARALING PANLIPUNAN
ENGLISH
EPP
ESP
FILIPINO
MAPEH
MATHEMATICS
MTB
SCIENCE