Strict adherence to public health protocols is encouraged by the Department of Education amid the challenges posed by the pandemic to ensure the delivery of accessible, responsive, and quality education throughout this heath crisis.
As part of the implementing guidelines on the school calendar and activities for the school year 2022-2023 enclosed in DepEd Order 34 s 2022, the following are the Deped Guidelines on the Prevention of Covid-19 in SY 2022-2023 Face to Face Classes. It focuses on the Safe operations, teaching and learning, including the wellbeing and protection of students, and provides guidance on safe school management, protective measures and safety procedures, psychological support, and contingency plan.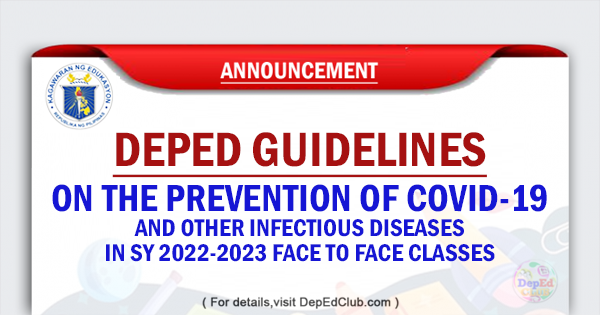 Deped Guidelines on the Prevention of Covid-19 in SY 2022-2023 Face to Face Classes
Face masks shall be mandatory in the re-opening of classes.
A face shield may be used in lieu of a face mask for activities requiring the entire face of an individual to be visible.
Physical distancing shall be observed whenever possible.
Classroom doors and windows shall be opened for ventilation.
Students, teaching, and non-teaching personnel are strictly prohibited from eating together while facing one another.
If there is a lack of space in the classroom or school premises to allow distancing during meals, eating shall be done in a manner where all individuals face in one direction and do not talk while their masks are off.
Schools shall coordinate with the DOH for counseling on the benefits of COVID-19 vaccination of the family of an unvaccinated learner and implement mobile vaccinations for those who sign a written consent to be vaccinated.
Schools shall seek the support of and partner with mental health associations or psychiatry societies in their respective areas to assist in ensuring the mental wellness of students, teachers, and non-teaching personnel during the transition period.
Learners who exhibit symptoms of COVID-19 shall be immediately excused from in-person classes and shall shift to distance learning.
This shall only be required of those who feel well enough to answer modules or participate in online classes but are in the home or facility isolation. This provision excludes learners who are admitted to hospitals. To prevent learners with symptoms similar to COVID-19 from going to school, parents are highly encouraged to monitor and report the health status of their children to the school, through the class adviser, and appropriate authorities.
Schools shall have an infection control plan and containment strategy that is ready to be implemented in the event of the spread of COVID-19 or other infectious diseases within their premises.
Schools shall not be held liable should any learner or personnel turn COVID- 19 positive. There is no need for parents or guardians to sign a waiver for this item. Likewise, no parent's or guardian's consent shall be required for a learner to resume 5 days of in-person classes.