"The saddest people I've ever met in life are the ones who don't care deeply about anything at all. Passion and satisfaction go hand in hand, and without them, any happiness is only temporary, because there's nothing to make it last."
― Nicholas Sparks, Dear John
Good day fellow Teachers!  We've been together for three years now. We had a lot of struggles in our beloved profession but we made it to this new school year together – supporting and sharing our knowledge for the welfare of each other. We are always there for each other as we dream of a smooth and productive school year. Together we will withstand any challenges. And now, we have uploaded our Week 4 – 4th Quarter Daily Lesson Log | February 10 – 14, 2020 DLL
Thanks to all our Contributors, File Editors and Tech Volunteers who selflessly manage our website contents as well as our social media accounts. Thanks to all of you for your continued support and your collective ideas.
And now as we start on another journey with our students and new challenges that are yet to come, we shall stick together as one – a solid DepEd Teachers Club!
No Teacher left behind.
This week's news that matter:
DepEd Issues Preventive Measures vs. nCoV, Suspends Major February Events
The Department of Education (DepEd) released guideline on Tuesday as preventive measure of the novel coronavirus (2019-nCoV ARD) in basic education schools and offices, after taking cue from Department of Health (DOH) and the World Health Organization (WHO).

"The first thing we teach in the Department of Education is compliance with laws and regulations so all of these [preventive measures against 2019-nCoV] have been considered. We have now a compilation of all issuances of the WHO, the Department of Health, and the Office of the President as guide for our teachers and learners," Secretary Leonor Magtolis Briones said.

DepEd issued Department Memorandum 15, s. 2020, stating the first set of policy directives of Task Force nCoV, which includes postponing all national and regional activities involving learners and/or teachers for the month of February.

The National Science and Technology Fair (NSTF) in Quezon City on February 10-14, National Schools Press Conference (NSPC) in Cagayan and National Festival of Talent (NFOT) in Isabela on February 17-21 were some of the postponed events as part of the preventive measures. Palarong Pambansa, however, is not included in the list of affected activities since it will officially open by May of this year.

The Department will evaluate the suspensions of the activities to assess the reaffirmation or revocation of the suspension, depending on the development of the situation and upon the advice of DOH.

In addition, DepEd also discouraged all division and district activities that involve the gathering/congregation of various schools, and advised the organizers to seek the recommendation of local health authorities should the activities push through.

Personnel and learners exhibiting respiratory infections were also advised not to attend activities that involve congregation of learners within the school while off-campus activities as defined in DepEd Order No. 66, s. 2017 (Implementing Guidelines on the Conduct of Off-Campus Activities) were also suspended.

Travel limitations and restrictions

The DepEd memorandum also delineated travel limitations and restrictions of all DepEd personnel and learners.

Official travels previously approved by the Secretary for the month February to countries (the latest list of countries with confirmed cases is accessible in the WHO's site https://www.who.int/emergencies/diseases/novel-coronavirus-2019/situation-reports) identified to have confirmed cases or persons under investigation for nCoV are also revoked. All DepEd personnel and learners with approved personal travels to the same countries are highly advised not to proceed.

Personnel and learners coming from travel abroad, meanwhile, must comply with the prescribed quarantine procedures of proper government authorities before returning to work or school.

Public information and awareness campaigns

Classroom discussions are also encouraged to tackle the nature of the 2019-nCoV ARD, ways of transmission, signs and symptoms, and precautionary measures such as regular handwashing, maintaining healthy lifestyles, ensuring food safety and consulting a physician when symptoms attributable to respiratory infection.

Official collaterals for display in schools and offices containing these key messages (sample is attached) may be downloaded at https://www.deped.gov.ph/stopncov. Editable files are available for translation to local languages and dialects.

The Department also enjoined all offices and schools to use and share only verified and up-to-date information from reliable and official sources such as the WHO via https://www.who.int/emergencies/diseases/novel-coronavirus-2019 and the DOH via https://www.doh.gov.ph/2019-nCoV.
Source:
Published: February 5, 2020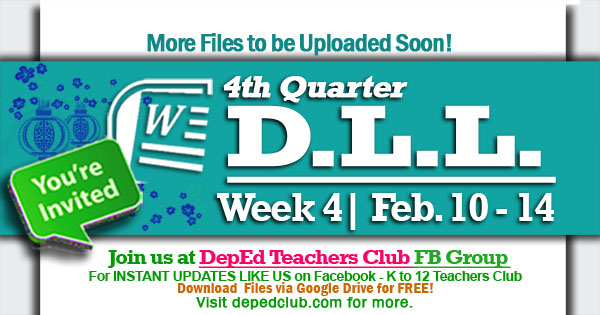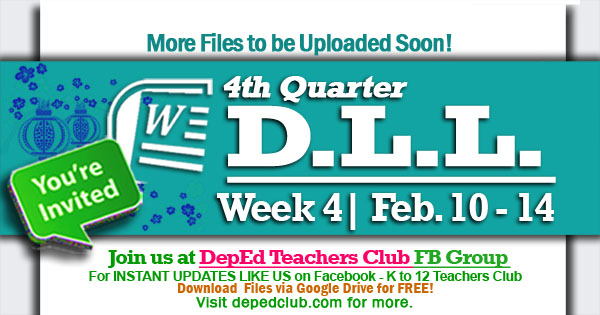 Week 4 – 4th Quarter Daily Lesson Log
February 10 – 14, 2020 DLL
Additional files to be uploaded soon. Other Grades' DLL files are already uploaded. You may check them now.
We are always on the process of uploading new files.
For additional updates and unannounced uploads, please visit this section from time to time.
Like us on Facebook to get INSTANT UPDATES. CLICK HERE
You can also BOOKMARK this page in your web browser by clicking Ctrl+D in your keyboard for faster access in the future. Thank you fellow Teachers. 
We at DepEd Teachers Club are always grateful to all our File Authors and File Contributors. Credit goes to all of them. Let us all give them thanks and show our support for all their works.
We are also thankful for all our File Editors, Sharers, Tech Volunteers and fellow Teachers for helping us and making this kind of service possible.