A Happy, Blessed and Prosperous New Year fellow Teachers!
We've been together for three years now. We had a lot of struggles in our beloved profession but we made it to this new school year together – supporting and sharing our knowledge for the welfare of each other. We are always there for each other as we dream of a smooth and productive school year. Together we will withstand any challenges. And now, we have uploaded our Week 10 – 3rd Quarter Daily Lesson Log | January 13 – 17, 2020 DLL
Thanks to all our Contributors, File Editors and Tech Volunteers who selflessly manage our website contents as well as our social media accounts. Thanks to all of you for your continued support and your collective ideas.
And now as we start on another journey with our students and new challenges that are yet to come, we shall stick together as one – a solid DepEd Teachers Club!
No Teacher left behind.
This week's news that matter:
DepEd's Statement on the Approval of 2020 Budget
The Department of Education (DepEd) commends the President, members of the House of Representatives and Senate for the approval of the General Appropriations Act (GAA) for FY 2020.
As DepEd awaits for specific details of the final GAA 2020, it welcomes the significant increases in funding for the following DepEd programs: 1. Voucher Program for Private SHS; 2. Last Mile Schools; and 3. Human Resource Development for Personnel in Schools and Learning Centers. On the other hand, the decrease in funding for Basic Education Inputs program, particularly for the new construction of school buildings, is a huge challenge to the department as it will adversely affect the programming of a lower classroom to students ratio for the coming school years.
The Department also welcomes the inclusion of the salary increase for teaching and non-teaching employees of the Department effective January 2020. This is an added motivation for almost a million personnel of the Department.
With the assurance of continued funding and its early approval, DepEd programs and projects for FY 2020 shall be implemented as planned.
The new budget will also be harnessed to support "Sulong EduKalidad", DepEd's program to meet the challenge of quality in basic education
DPWH Overtakes DepEd, Get Bigger Budget this year
The Department of Public Works and Highways (DPWH) is the biggest gainer in the P4.1-trillion national budget for this year, overtaking the Department of Education (DepEd) for the first time in years.
In the 2020 General Appropriations Act signed by President Duterte last Monday, DPWH was given P580.886 billion after Congress restored its budget cut and even augmented the agency's fund.
DepEd, which historically had the biggest budget among agencies, got only P521.35 billion for this year as the department slipped to second place.
Based on the report of its bicameral conference committee, a copy of which was obtained by The STAR, Congress augmented the DPWH's budget by some P318.4 billion.
The executive branch initially proposed a P534.3-billion budget for DPWH in this year's  National Expenditure Program submitted by the Department of Budget and Management.
The Senate, however, cut this by P267.3 billion during deliberations.
But during the bicameral conference committee that includes senators and congressmen, lawmakers from both the House and Senate decided to restore the budget cut and augmented DPWH's fund with P51.1 billion, which represented the net increase in the agency's budget.
The DepEd, on the other hand, got a net increase of only P1.7 billion from its proposed budget of P550.89 billion.
The agency's allotment this year is lower than its P531.57-billion budget in 2019.
The 1987 Constitution provides that "the State shall assign the highest budgetary priority to education."
But despite the DepEd's drop to second rank in terms of budgetary appropriations per agency, the education sector still has the biggest portion in the 2020 budget with about P655 billion.
The Commission on Higher Education got an allocation of P46.732 billion for this year, state universities and colleges got P73.716 billion while the Technical Education and Skills Development Authority has P12.974 billion.
Before its approval of the 2020 budget, the Senate made at least P45 billion in amendments and realignments in favor of projects on education, health, agriculture, labor and government salaries.
Speaker Alan Peter Cayetano had earlier confirmed that each congressional district would get P500 million worth of projects under the record-high national budget.
But Cayetano had denied allegations that such allocation are "pork barrel" or the kind of appropriation declared illegal by the Supreme Court (SC) and had been a source of corruption in government.
Cayetano assured the people that the 2020 budget is "pork-free" and compliant with the SC ruling, which prohibited lump sum allocations and post-enactment budgeting. He explained that the funds for infrastructure projects in congressional districts will be handled by the DPWH.
Deputy Speaker and 1-Pacman party-list Rep. Mikee Romero lauded the increase in the government's budget for public works and infrastructure.
Romero said this increase in spending will benefit the economy both on the local and national levels.
"Building bridges, roads and other infrastructure in provinces will boost economy in our regions because it will improve tourism and investment environment in our regions. For the national level, an increase in government spending will always benefit the economy," he added.
Source:
Published: January 11, 2020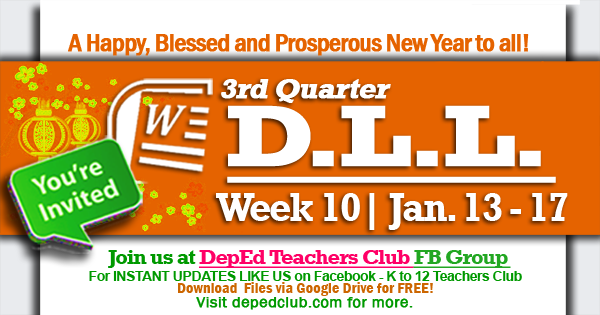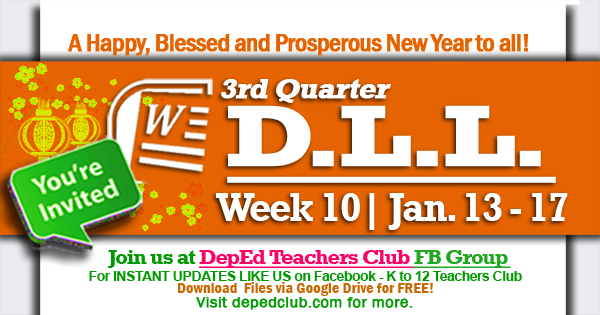 Week 10 – 3rd Quarter Daily Lesson Log
January 13 – 17, 2020 DLL
Additional files to be uploaded soon. Other Grades' DLL files are already uploaded. You may check them now.
We are always on the process of uploading new files.
For additional updates and unannounced uploads, please visit this section from time to time.
Like us on Facebook to get INSTANT UPDATES. CLICK HERE
You can also BOOKMARK this page in your web browser by clicking Ctrl+D in your keyboard for faster access in the future. Thank you fellow Teachers. 
We at DepEd Teachers Club are always grateful to all our File Authors and File Contributors. Credit goes to all of them. Let us all give them thanks and show our support for all their works.
We are also thankful for all our File Editors, Sharers, Tech Volunteers and fellow Teachers for helping us and making this kind of service possible.