Merry Christmas and a Happy, Blessed and Prosperous New Year fellow Teachers!
We've been together for three years now. We had a lot of struggles in our beloved profession but we made it to this new school year together – supporting and sharing our knowledge for the welfare of each other. We are always there for each other as we dream of a smooth and productive school year. Together we will withstand any challenges. And now, we have uploaded our Week 9 – 3rd Quarter Daily Lesson Log | January 6 – 10, 2019 DLL
Thanks to all our Contributors, File Editors and Tech Volunteers who selflessly manage our website contents as well as our social media accounts. Thanks to all of you for your continued support and your collective ideas.
And now as we start on another journey with our students and new challenges that are yet to come, we shall stick together as one – a solid DepEd Teachers Club!
No Teacher left behind.
This week's news that matter:
Update on the Payment of Service Recognition Incentive (SRI Update)

From DepEd Undersecretary Annalyn M. Sevilla's Facebook Page, here's the update and Frequently Asked Questions regarding the Payment of Service Recognition Incentive (SRI).
Payment of Service Recognition Incentive (SRI) per Administrative Order No.19, series of 2019

1. The 7k SRI shall be released to all qualified DepEd employees not earlier than Dec 20, 2019 chargeable to DBM-released allotment and cash.

2. The 3k SRI shall only be released upon identification of available savings from RELEASED allotment of the entire agency. DepEd needs approximately 3B to be able to pay additional 3k per employee. If pooled PS savings is not enough to cover the additional 3K, it should be UNIFORMLY divided to ALL employees of the AGENCY.

We are requesting all regional finance offices to submit the data/details on the available PS savings so we can identify the total pooled savings and determine the amount DepEd can give to its employees. Please submit on or before Dec 19, 2019.

—-
P.S.
Some updates after I received your comments… (bilis nyo talaga mag react hah!!! 🤗😜👍🎄🎄🎄)

1. Is this taxable? – yes, all compensation and benefits we receive are part of "Taxable income" which is used to calculate how much tax an individual owes to the government in a given tax year.

Income tax is generally computed after determining gross income or adjusted gross income (which is minus any deductions or exemptions allowed in that tax year). May adjustment naman yan before final report of ITR is submitted to BIR. Pag sobra naman withholding tax, agency will refund it to you. If kulang naman, magbabayad ka pa din ng kulang.

2. is BARMM included in grant of SRI? – yes it should be as AO 19, series 2019 even included LGUs, SUCS/LUCs and GOCCS. However, funding source depends if you are NGAs, LGUs or GOCCs. I suggest DepEd-BArmm should directly coordinate with DBM so they can have the 7k allotment and cash release from DBM.

3. Pasalamat pa din tayo dahil hindi naman expected itong SRI na ito. At least we have the 7k na on or after Dec 20. Let's appreciate the effort of PRRD, cabinet secretaries who approved this incentive, OP, DBM; and all DepEd finance officers who will identify funding source for the additional 3k and they will work double/triple time to ensure this will be obligated by end of year so we can pay in cash to all employees the additional SRI even after 2019.

Mas merry pa din ang CHRISTmas!!!
God bless you all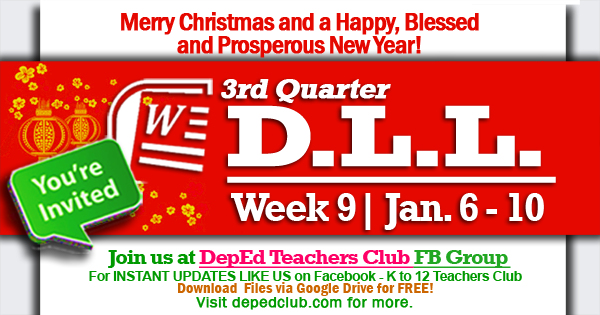 Week 9 – 3rd Quarter Daily Lesson Log
January 6 – 10, 2019 DLL
Additional files to be uploaded soon. Other Grades' DLL files are already uploaded. You may check them now.
We are always on the process of uploading new files.
For additional updates and unannounced uploads, please visit this section from time to time.
Like us on Facebook to get INSTANT UPDATES. CLICK HERE
You can also BOOKMARK this page in your web browser by clicking Ctrl+D in your keyboard for faster access in the future. Thank you fellow Teachers. 
We at DepEd Teachers Club are always grateful to all our File Authors and File Contributors. Credit goes to all of them. Let us all give them thanks and show our support for all their works.
We are also thankful for all our File Editors, Sharers, Tech Volunteers and fellow Teachers for helping us and making this kind of service possible.