Was this helpful?
According To DepEd, appropriate technical assistance in a form of coaching and mentoring for teachers shall be provided to ensure their ability to deliver relevant teaching and learning strategies and ensure continuity of learning through a combination of distance learning and face to face classes. DepEd has also produced a plethora of learning resources to support teachers and learners in ensuring the attainment of learning standards through the Most Essential Learning Competencies (MELCs). Maximum utilization of these resources is highly encouraged as they have been designed to conform with the demands of distance learning and face to face classes and to meet the needs and contexts of learners with different learning conditions. As part of the face to face classes implementation, teachers shall prepare the Weekly Learning Plan to provide direction and guidance for both classroom-based and home-based activities. To help teachers, we now have uploaded ready made Update! Grade 6 Weekly Learning Plans (Formatted WLP)
By definition, Weekly Learning Plan is an outline of home-based activities and classroom-based activities that guides both teachers and learners in the attainment of instructional objectives (Most Essential Learning Competencies) during the limited face-lo-face classes. It is a simplified instructional plan that combines the Weekly Home Learning Plan and the Daily Lesson Log/Plan
According to DepEd, Textbooks, self-learning modules, primer lessons, learning activity sheets, TV/video lessons,
radio/audio lessons, learner's materials, and other learning resources in different content and accessible formats, whichever is applicable, shall be utilized for blended learning. Other teacher-made learning materials may also be used to help deepen learners' understanding of the lesson. It shall be ensured that al teachers have the Teacher's Guide/Teacher's Manual on specific grade levels and learning areas that they are handling. Likewise, teachers shall develop activity-based materials for mastery of learning delivered during face to face classes.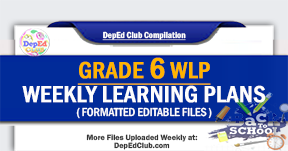 UPDATE! Grade 6 Weekly Learning Plans (Formatted WLP)
UPDATE! Week 1 – 1st Quarter – Grade 6 Weekly Learning Plans (Formatted WLP)
UPDATE! Week 2 – 1st Quarter – Grade 6 Weekly Learning Plans (Formatted WLP)
Additional files to be uploaded soon.
We are always on the process of uploading new files.
For additional updates and unannounced uploads, please visit this section from time to time.
Like us on Facebook to get INSTANT UPDATES. CLICK HERE
You can also BOOKMARK this page in your web browser by clicking Ctrl+D in your keyboard for faster access in the future. Thank you fellow Teachers.
We at DepEd Teachers Club are always grateful to all our File Authors and File Contributors. Credit goes to all of them. Let us all give them thanks and show our support for all their works.
We are also thankful for all our File Editors, Sharers, Tech Volunteers and fellow Teachers for helping us and making this kind of service possible.
Thank you!
MORE DOWNLOADABLE FILES
Was this helpful?