According to DepEd, Teachers shall ensure that teaching hours are maximized for the actual teaching and learning process. After rendering at most six hours of actual teaching in face to face classes, teachers may spend the remaining two hours of work on teaching-related activities, which include but are not limited to: checking/preparation of learning assessments, administer frequent checks of understanding, formative tests, and reasonable homework, preparation of Weekly Learning Plan, Individual Monitoring Plan, and Learning Progress Checklist. As part of lesson preparations, teachers shall prepare the Weekly Learning Plan to provide direction and guidance for both classroom-based and home-based activities. To help teachers, we now have uploaded ready made Update! Grade 5 Weekly Learning Plans (Formatted WLP)
By definition, Weekly Learning Plan is an outline of home-based activities and classroom-based activities that guides both teachers and learners in the attainment of instructional objectives (Most Essential Learning Competencies) during the limited face-lo-face classes. It is a simplified instructional plan that combines the Weekly Home Learning Plan and the Daily Lesson Log/Plan
According to DepEd, class advisers and subject teachers shall ensure that the attendance of learners is closely monitored as well as the accomplishment of home-learning tasks for those on distance learning. In case a learner can no longer participate in face to face classes due to a valid reason, he/she will be reverted to distance learning. During face to face classes, the teacher shall devote the allotted instructional time to administer diagnostic assessments to determine learners' strengths and needs and identify learning priorities. The teacher shall conduct targeted instruction (remediation, reinforcement or enrichment) to address specific learning needs, conduct summative assessments to establish whether learners achieved the learning targets specified in the curriculum (e.g., Most Essential Learning Competencies), monitor learning progress using appropriate tools, such as learning progress checklist, rubrics, and portfolios as per DepEd Order No. 031, s. 2O2O (Interim Guidelines for Assessment and Grading in Light of the Basic Education Learning Continuity Plan); and provide ongoing feedback on learners' outputs
and performance.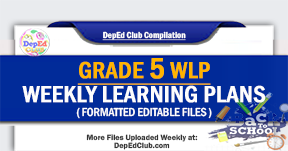 UPDATE! Grade 5 Weekly Learning Plans (Formatted WLP)
UPDATE! Week 1 – 1st Quarter – Grade 5 Weekly Learning Plans (Formatted WLP)
UPDATE! Week 2 – 1st Quarter – Grade 5 Weekly Learning Plans (Formatted WLP)
Additional files to be uploaded soon.
We are always on the process of uploading new files.
For additional updates and unannounced uploads, please visit this section from time to time.
Like us on Facebook to get INSTANT UPDATES. CLICK HERE
You can also BOOKMARK this page in your web browser by clicking Ctrl+D in your keyboard for faster access in the future. Thank you fellow Teachers.
We at DepEd Teachers Club are always grateful to all our File Authors and File Contributors. Credit goes to all of them. Let us all give them thanks and show our support for all their works.
We are also thankful for all our File Editors, Sharers, Tech Volunteers and fellow Teachers for helping us and making this kind of service possible.
Thank you!
MORE DOWNLOADABLE FILES