#WalangPasok October 31, 2022.
October 31, 2022, Monday, will be a special non-working holiday according to a document signed by President Ferdinand Marcos Jr.
At a press briefing on Tuesday, the officer in charge of the Office of the Press Secretary, Cheloy Garafil, made this announcement.
Cheloy Garafil stated that " Para na din po mas marami tayong time kasama ng ating pamilya at para ma-promote na din po ang ating local tourism,"."
The 31st of October is a Monday.
All Saints' Day, which is likewise a unique non-working holiday, falls on November 1, Tuesday the following day.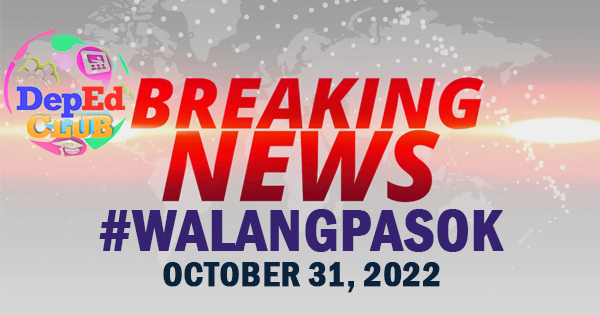 In the Philippines, Undas 2022 is a traditional holiday that starts on November 1. This same day is observed as All Saints' Day in numerous Catholic nations.This day honors departed friends and relatives, and the Filipinos celebrate those who have gone on before them through a variety of distinctive customs.
It is well known that Filipinos hold their deceased in the highest regard. Families will go to the graves of their ancestors before the holiday to maintain the land and clean it up in order to get ready for Undas. People will place flowers and candles on the graves over the occasion.
All Souls' Day is observed on November 2, however it is a special working day.