In this article, you will find our compiled KINDERGARTEN Teachers Guide. We aim to complete all the KINDERGARTEN Teachers Guide to make them available to our fellow teachers and help them complete their resources to make their efforts more directed into the actual teaching process.
You will find the KINDERGARTEN Teachers Guide download links at the bottom of this article. If you have time, please read the article below for some background about the kindergarten curriculum.
———- According th the Department of Education, the Kindergarten Curriculum Framework draws from the principles and goals of the K to 12 Philippine Basic Education Curriculum Framework. It is likewise aligned with National Early Learning Framework (NELF). It clearly depicts the developmental tasks and milestones of 5 to 6 year-olds and how educators can guide them to develop holistically
KINDERGARTEN FRAMEWORK PRINCIPLES – Department of Education
A developmentally appropriate curriculum is one that is age-appropriate, individually appropriate and socio-culturally appropriate. This Kindergarten framework considers the developmental benchmarks of Filipino five-year-olds, recommends the use of strategies that address needs and interests of the learners, and uses the mother tongue as medium of instruction.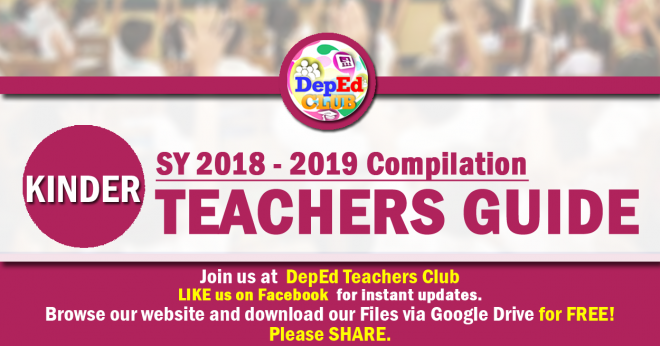 Kindergarteners are constantly developing in the different domains (cognitive, language, physical, creative and aesthetic, socio-emotional, and values and character). The National Early Learning Framework (NELF), formulated by the Early Childhood Care and Development Council, views the Filipino Child as the most important asset of the nation. NELF furthers its view of the Filipino Child as…
…as a human being who loves God, parents, and country; is proud to be a Filipino; honors the customs , traditions and good values of the people, knows his/her basic rights; respects other cultures and is able to live in peace and harmony with all.
Thus beginning at an early age the child must be cared for and given all the opportunities to address current developmental needs and prepare him/her for lifelong learning. Kindergarten classrooms, therefore, should multi-level because kindergarteners will differ in their development in each domain.
The following are situations that a kindergarten teacher should put to mind.
Every classroom is a multi-level classroom
Every teacher is a multi-level facilitator
Every learner is unique
Every learner has particular intelligence or intelligences
Every learner has his/her own learning styles
Every learner has his/her own particular needs

Cognitive
Physical
Socio-emotional

Every learner has his/her own particular wants and interests
Every learning has a right to develop uniquely from the others
Source: Department of Education
———- 
We are always on the process of uploading KINDERGARTEN Teachers Guide. As requested, here are the file links. The remaining files will be uploaded soon. Please check this section from time to time.
Download these files for Free. No Adfly. Virus Free. No Pop-ups. Safer. Faster.
Available KINDERGARTEN Teachers Guide for download
1st Quarter Kindergarten Teachers Guide
2nd Quarter Kindergarten Teachers Guide