In this article, you will find our compiled GRADE 1 Teachers Guide. We aim to complete all the GRADE 1 Teachers Guide to make them available to our fellow teachers and help them complete their resources to make their efforts more directed into the actual teaching process.
You will find the GRADE 1 Teachers Guide download links at the bottom of this article. If you have time, please read the article below for additional background about the K 12 curriculum. Source: Department of Education
——- PHILOSOPHY AND RATIONALE FOR ARTS EDUCATION
The Arts has been present since the beginning of civilization as it is an essential means for man to live and communicate with others. It has been used to enhance man's life and surroundings, to express his thoughts, dreams, and spiritual beliefs, and to share his own and his community's aspirations, celebrations, and events. Arts records, reflects, and rearranges man's life and existence.
The Arts is a visualization of a people's history and uniqueness, a reflection of their creativity and accomplishments, and a visible expression of their distinct way of thinking, communicating, reasoning, and worshiping. It is expressed in a unique symbol system that is visual, kinetic and tactile. Howard Gardner, an educator and psychologist, affirms that the arts develop the child's
"SPATIAL, INTRAPERSONAL, LINGUISTIC AND KINESTHETIC INTELLIGENCES" for the Arts develop a distinct way of seeing, thinking, communicating, and creating in a person. Furthermore, Art develops and increases a person's ability to apply creative and new solutions, for new problems in our world. Schools, therefore, need to develop the multiple intelligences of a student through the arts. The K-12 Arts Curriculum seeks to address these needs of our students for the 21st Century.
The 21st Century is a different world: it is highly visual, with a proliferation of images seen not only in static media like magazines, books, paintings and posters. Now images are kinetic and accessible in various media like television, outdoor advertisements, movies, cell phones, and new technologies like iPads, iPods, DVD players, personal computers, and tablets. Artists create, upload and share via the Internet, images, sounds, texts, films, videos, pictures, artworks and designs. These are readily available and interactive, involving the viewer to react, comment and utilize these visuals through the Internet. Teaching Art to students is one way for them to process and interpret the barrage of images and sounds, in a critical and intelligent manner.
The focus of the K-12 Art curriculum is PHILIPPINE ART, CULTURE and HERITAGE, appreciating the diversity of our local artists, our arts, crafts, and indigenous materials to strengthen the student's identity of being Filipino, before he/she is introduced to the art of other countries. The modules guide educators and provide our students with art experiences, concepts, and processes that are presented in a SPIRAL PROGRESSION of difficulty and depth from Kindergarten to Grade 12.
Source: Department of Education
——–
We are always on the process of uploading GRADE 1 Teachers Guide. As requested, here are the file links. The remaining files will be uploaded soon. Please check this section from time to time.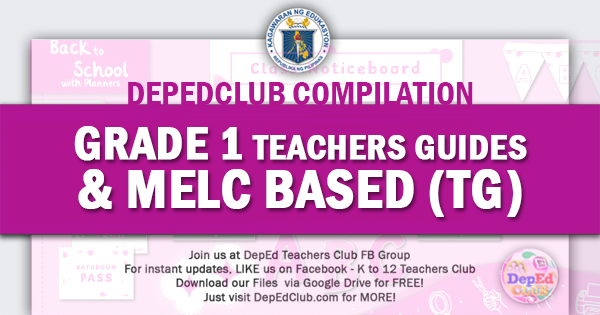 GRADE 1 Teachers Guide & MELC Based TG | Links FIXED!
ARALING PANLIPUNAN 1 Teachers Guide
ENGLISH 1 Teachers Guide
ESP 1 Teachers Guide
FILIPINO 1 Teachers Guide
MAPEH Teachers Guide
MATHEMATICS Teachers Guide
MTB –MLE 1 Teachers Guide
MTB Teachers Guide
New! MELC Based Teachers Guides
IMPORTANT: HOW TO DOWLOAD FILES IN GOOGLE DRIVE
FOR MS OFFICE FILES:
1. Click on the file link in our website.

2. You will be redirected to the file location via Google Drive.

3. On the upper left side of your screen, Go to FILE menu. Click DOWNLOAD, then Select Microsoft Word for the editable file format.
FOR OTHER FILES:
1. On the upper right hand corner of your screen, look for the Down Arrow Download Button just as below:

If you encounter an Error while downloading the files, please Log-in to your Gmail account (Here – mail.google.com) , then try again to click the Download Link in Google Drive. Thank you.
Additional files to be uploaded soon.
We are always on the process of uploading new files.
For additional updates and unannounced uploads, please visit this section from time to time.
Like us on Facebook to get INSTANT UPDATES. CLICK HERE
You can also BOOKMARK this page in your web browser by clicking Ctrl+D in your keyboard for faster access in the future. Thank you fellow Teachers.
We at DepEd Teachers Club are always grateful to all our File Authors and File Contributors. Credit goes to all of them. Let us all give them thanks and show our support for all their works.
We are also thankful for all our File Editors, Sharers, Tech Volunteers and fellow Teachers for helping us and making this kind of service possible.
MORE DOWNLOADABLE FILES