To help teachers in their lesson presentation despite the limited time and resources, we have uploaded more Grade 5 PowerPoint Presentations – 2nd Quarter. Thanks to all our File Creators, Contributors and Files Editors for sharing these files. More files to be uploaded soon. Thank you!
Results from an effective lesson presentation
Captivating the audience in both the content's topic and presentation is a basis of a good presentation. Feedback from the students should include what they took away from the presentation as well as recommendations for enhancement.
It is expected that the teacher would get better at both subject identification and delivery with each presentation. Teacher observation, audience engagement, and self-reflection can all serve as vehicles for this feedback.
Both the content and the method are taken into account when developing presentations. The topic selection, the selection of pertinent details and visual aids, and the structuring of the presentation's introduction, body, and summary should all show growth on the part of teachers. Voice, clarity, tone, eye contact, and movement while delivery should all be improved.
It is crucial to evaluate the presentation itself in relation to how well the abilities have developed over time and with training when evaluating presenting skills. The development of a level of comfort with communication skills depends on teacher involvement, student assessment, and self-reflection.
When practicing in the classroom, teachers occasionally struggle to connect course material to academic material. Teachers often separate theory from practice when they are having trouble connecting certain topics. Teachers may create conceptual lessons that are imprecise, illogical, and contain extraneous content. They also advocate for lecturers to put less emphasis on theory and more on assisting students in creating deeper connections among theory and practice. Similar to this, better lesson presentations are required to close the gap between research and practice.
The past experiences, the current teaching environment, and the teachers' idealized conceptions of how the teaching environment should guide information that must be used in teaching practice were identified as the three components of craft knowledge. Knowledge of both the content and the context refers to the pertinent information required to communicate the subject matter in the given context. A personal understanding that is difficult to communicate vocally or in writing to another person is known as tacit knowledge.
Action-oriented knowledge describes how student teachers use lesson plans to present their lessons in the classroom. This includes meeting lesson objectives, using learning and teaching media, learning and teaching methods, and connecting content to real-world situations in the introduction. The body of the lesson is made up of the exposition of new knowledge and the actualization of that knowledge, as well as expanded opportunities. The conclusion rounds out the lesson.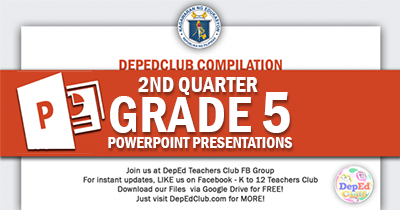 Grade 5 PowerPoint Presentations – 2nd Quarter
ARALING PANLIPUNAN 5 PowerPoint Presentations – 2nd Quarter
ENGLISH 5 PowerPoint Presentations – 2nd Quarter
EPP 5 PowerPoint Presentations – 2nd Quarter
ESP 5 PowerPoint Presentations – 2nd Quarter
FILIPINO 5 PowerPoint Presentations – 2nd Quarter
MATH 5 PowerPoint Presentations – 2nd Quarter
SCIENCE 5 PowerPoint Presentations – 2nd Quarter
IMPORTANT GUIDE:
MORE DOWNLOADABLE FILES
We are always on the process of uploading new files.
For additional updates and unannounced uploads, please visit this section from time to time.
Like us on Facebook to get INSTANT UPDATES. CLICK HERE
You can also BOOKMARK this page in your web browser by clicking Ctrl+D in your keyboard for faster access in the future. Thank you fellow Teachers.
We at DepEd Teachers Club are always grateful to all our File Authors and File Contributors. Credit goes to all of them. Let us all give them thanks and show our support for all their works.
We are also thankful for all our File Editors, Sharers, Tech Volunteers and fellow Teachers for helping us and making this kind of service possible.