To make the required learners materials available to all teachers, especially to those having problems with slow internet connections, we have uploaded the compiled GRADE 5 Learners Materials – 2nd Quarter | Learning Materials.
Teacher Involvement in the Teaching and Learning Process
The fact that employing learning materials makes students more motivated and has a beneficial impact on the learning experience is one of the most significant benefits. Because it piques their attention, appropriate learning materials also give students a purpose to study more effectively. The role of the teacher is also crucial since students can learn more effectively if they receive enough help from their teachers.
Researchers have established that learning materials should be employed in the classroom to improve students' ability to learn. Due of its successful involvement in the teaching and learning process, it must be promoted. Strategies should be prepared for the right use of learning materials because it is the most efficient way to improve something. For the improvement of the students' learning abilities, the teacher and students in the class should adhere to a few simple guidelines.
The instructional materials should be handled by the students themselves.
There should be a variety of instructional materials available in the class.
In order for students to learn more in less time, they need feel comfortable in the classroom.
Learning materials should be selected based on student aptitude, prior knowledge, and classroom circumstances.
To add variety, attractive presentation, and compelling information, two or more instructional approaches should be combined.
To learn more quickly, students' self-confidence needs to be increased.
In the classroom, instructional materials that are pertinent and helpful should be introduced.
Aid students in using the educational resources that promote self-discovery effectively.
Encourage kids to repeat knowledge and to use their short-term memory to recall it. Utilizing them gradually aids in their ability to learn.
It is best to combine several learning methods at once, including audio, video, conventional, and experiential.
As it affects learning rates, it is important to talk about students' beliefs, motivations, and feelings in the classroom.
Students may request that their teachers highlight any pertinent learning materials and key points. They should constantly be able to locate pertinent educational resources.
The students must provide feedback.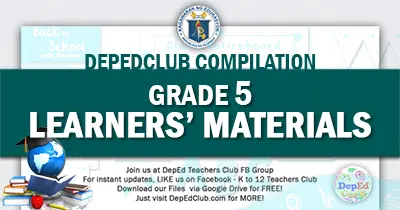 Grade 5 Learners Materials / Learning Materials – 2nd Quarter
ARALING PANLIPUNAN 5 Learners Materials / Learning Materials
Pamunuang Kolonyal ng Espanya (ika16 hangang ika 17 siglo)
ENGLISH 5 Learners Materials / Learning Materials
Listening Comprehension
Reading Comprehension
Study Strategies
FILIPINO 5 Learners Materials / Learning Materials
Gramatika
Pagpapahalaga sa Wika, at Panitikan
Pagsulat
Pakikinig
MUSIC 5 Learners Materials / Learning Materials
Melody
SCIENCE 5 Learners Materials / Learning Materials
Living Things and Their Environment
These instructional materials were collaboratively developed and reviewed by educators from public and private schools, colleges, and/or universities. Please Share.
/ Learning Materials / Learners Materials / Instructional Materials
IMPORTANT GUIDE:
MORE DOWNLOADABLE FILES
We are always on the process of uploading new files.
For additional updates and unannounced uploads, please visit this section from time to time.
Like us on Facebook to get INSTANT UPDATES. CLICK HERE
You can also BOOKMARK this page in your web browser by clicking Ctrl+D in your keyboard for faster access in the future. Thank you fellow Teachers.
We at DepEd Teachers Club are always grateful to all our File Authors and File Contributors. Credit goes to all of them. Let us all give them thanks and show our support for all their works.
We are also thankful for all our File Editors, Sharers, Tech Volunteers and fellow Teachers for helping us and making this kind of service possible.