To help teachers with additional ideas on how to present an effective lesson, more Grade 4 PowerPoint Presentations – 2nd Quarter are now available. Thanks to all our File Creators, Contributors and Files Editors for sharing these files. More files to be uploaded soon. Thank you!
Essential abilities for lesson presentations
The ability to communicate verbally is very crucial. Teachers may find themselves fearing presenting in a professional context, as there are increasingly fewer options to prepare. By generating good communication and assisting students in participating in the education process, effective presentation techniques promote teacher learning. The benefits of practicing public speaking extend beyond presentations and can help teachers gain poise, confidence, and the ability to communicate effectively in a range of contexts. Some essential abilities for lesson presentations are listed below.
The presentation, visual aids, equipment, and other components that will be used to present the information should be identified.
Create a strategy for engaging the students that includes questions, anecdotes, comedy, etc.
To ensure that everyone can hear you, practice speaking loudly and clearly.
Offer possibilities for audience participation and input
Make eye contact, speak with enthusiasm, and relate the material to your personal experiences, among other delivery-related considerations.
Finding a pertinent topic and meticulously organizing the presentation's content and delivery are the first steps of effective presentation techniques.
Pick a subject. Although subjects can be assigned, giving students the chance to choose their own topics will result in presentations that are more engaging and enthusiastic.
Narrow your focus. To effectively communicate the important information in the allotted time, choose the content that will be presented.
What can you say about the presentation's topic that the audience will learn? For the presentation of the information, draft an outline. The outline should be detailed enough for the ideas to be understood, but it should also contain terms and phrases that serve as a guide for the explanation rather than serving as a script. Picking and creating the right supplementary materials will best advance the subject. Up until a comfortable level is reached and the delivery is fluid and relaxed, practice giving the presentation. Include time for audience comments, questions, and feedback when planning for audience interaction opportunities. Make an audience feedback form that will give them a chance to share what they took away from the presentation. How will this compare to the learning that was recognized as being intended?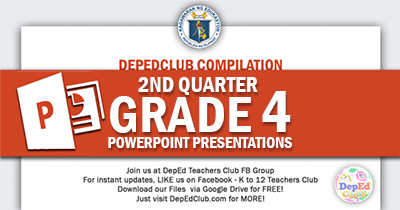 Grade 4 PowerPoint Presentations – 2nd Quarter
ARALING PANLIPUNAN 4 PowerPoint Presentations – 2nd Quarter
ENGLISH 4 PowerPoint Presentations – 2nd Quarter
EPP 4 PowerPoint Presentations – 2nd Quarter
ESP 4 PowerPoint Presentations – 2nd Quarter
FILIPINO 4 PowerPoint Presentations – 2nd Quarter
MAPEH 4 PowerPoint Presentations – 2nd Quarter
MATH 4 PowerPoint Presentations – 2nd Quarter
SCIENCE 4 PowerPoint Presentations – 2nd Quarter
IMPORTANT GUIDE:
MORE DOWNLOADABLE FILES
We are always on the process of uploading new files.
For additional updates and unannounced uploads, please visit this section from time to time.
Like us on Facebook to get INSTANT UPDATES. CLICK HERE
You can also BOOKMARK this page in your web browser by clicking Ctrl+D in your keyboard for faster access in the future. Thank you fellow Teachers.
We at DepEd Teachers Club are always grateful to all our File Authors and File Contributors. Credit goes to all of them. Let us all give them thanks and show our support for all their works.
We are also thankful for all our File Editors, Sharers, Tech Volunteers and fellow Teachers for helping us and making this kind of service possible.