To save valuable time in downloading files from heavy traffic sources, we have uploaded the compiled GRADE 4 Learners Materials – 2nd Quarter | Learning Materials. We aim to complete all the GRADE 4 Learners Materials (LM) so teachers won't be having hard time collecting these files.
importance of educational resources
Effective instructional materials may also include teachers. One of the best educational materials, it is also incredibly practical in every way. In a class, a teacher can engage learners in the learning process by employing certain straightforward techniques like using appropriate body language, making eye contact with them, displaying good facial expression, allowing them time to speak, using their names, etc. All of these activities foster a welcoming learning environment in the classroom and close the communication gap between the teacher and pupils. A teacher can also provide a role model, storyteller, vocalist, presenter, dancer, friend, and singer. A teacher can motivate the students to engage in the classroom actively by having them take on certain responsibilities in the classroom. Additionally, it will help kids study quickly and attentively.
It is impossible to instruct students without participating in this process because teaching is a social activity. To perform better, both the teacher and the student should participate in this activity. The tools used in the teaching process, which might involve both of them, are crucial.
Lessons are more entertaining, understandable, and clear for students when teaching materials are used. They can be used to increase vocabulary and knowledge at all learning levels.
Students are motivated by the second language instruction materials, which helps them learn the language without any problems.
Students' memories can be improved with the help of instructional materials. These tools help them learn, and what they learn sticks in their minds. Additionally, it makes their learning lasting. Supportive teaching aids help students recall the second language more easily.
Teaching aids can aid in a greater comprehension of the subject, which deters acts of perplexity. They are successful in the process of learning a second language because it renders the subject as well as every component of the lesson really evident.
Students love the language learning process because of the activities utilized to make it feel like a game. The learning activities and likelihood of success grow as supplementary materials are used more frequently.
Because it makes the process simple, effective, and enriches the learning activities, the use of teaching materials is utterly effective.
Additionally, these resources pique students' attention and inspire them to study a second language more effectively.
Additionally, these resources offer a relaxed learning environment and support their active participation in the learning, teaching, and experiential processes.
The use of teaching tools in the classroom can increase students' motivation to learn. Each student actively engages in the learning process. It helps the pupils communicate their ideas clearly.
By involving every student, teaching materials keep the classroom lively and energetic and prevent boredom. It gives the pupils first-hand experience.
Using the right instructional resources also helps you save a ton of time and money. It frees up time from tedious, protracted explanation classes and makes it easier for pupils to comprehend challenging subjects.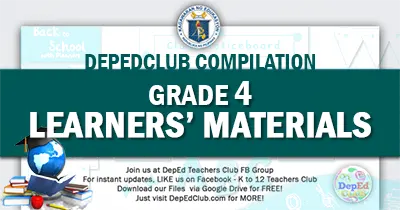 GRADE 4 LEARNERS MATERIALS – 2nd Quarter
ARALING PANLIPUNAN 4 Learners Materials
IKALAWANG MARKAHAN- Lipunan, Kultura at Ekonomiya ng Aking Bansa
ART 4 Learners Materials
Painting
ENGLISH 4 Learners Materials
Grammar
Oral Language
Reading Comprehension
FILIPINO 4 Learners Materials
Pagbasa
HEALTH 4 Learners Materials
Nutrition
Prevention and Control of Diseases and Disorders
Substance Use and Abuse
MUSIC 4 Learners Materials
Melody
SCIENCE 4 Learners Materials
Living Things and Their Environment
These instructional materials were collaboratively developed and reviewed by educators from public and private schools, colleges, and/or universities. Please Share.
/ Learning Materials / Learners Materials / Instructional Materials
IMPORTANT GUIDE:
MORE DOWNLOADABLE FILES
We are always on the process of uploading new files.
For additional updates and unannounced uploads, please visit this section from time to time.
Like us on Facebook to get INSTANT UPDATES. CLICK HERE
You can also BOOKMARK this page in your web browser by clicking Ctrl+D in your keyboard for faster access in the future. Thank you fellow Teachers.
We at DepEd Teachers Club are always grateful to all our File Authors and File Contributors. Credit goes to all of them. Let us all give them thanks and show our support for all their works.
We are also thankful for all our File Editors, Sharers, Tech Volunteers and fellow Teachers for helping us and making this kind of service possible.