In this article, you will find our compiled GRADE 4 Teachers Guide. We aim to complete all the GRADE 4 Teachers Guide to make them available to our fellow teachers and help them complete their resources to make their efforts more directed into the actual teaching process.
You will find the GRADE 4 Teachers Guide download links at the bottom of this article. If you have time, please read the article below for additional background about the K-12 curriculum.
———-CONCEPTUAL FRAMEWORK OF HEALTH EDUCATION
The Kindergarten to Grade 12 ("K to 12") Health curriculum aims to assist the Filipino learner in attaining, sustaining and promoting life-long health and wellness. The learning experience through the program provides opportunities for the development of health literacy competencies among students and to enhance their over-all well-being.
Health Education from Kindergarten to Grade 10 focuses on the physical, mental, emotional, as well as the social, moral and spiritual dimensions of holistic health. It enables the learners to acquire essential knowledge, attitudes, and skills that are necessary to promote good nutrition; to prevent and control diseases; to prevent substance misuse and abuse; to reduce health-related risk behaviors; to prevent and control injuries with the end-view of maintaining and improving personal, family, community, as well as global health.
Health Education emphasizes the development of positive heath attitudes and relevant skills in order to achieve a good quality of living. Thus, the focus on skills development is explicitly demonstrated in the primary grade levels. Meanwhile, a comprehensive body of knowledge is provided in the upper year levels to serve as a foundation in developing desirable health attitudes, habits and practices.
In order to facilitate the development of health literacy competencies, the teacher is highly encouraged to use developmentally-appropriate learner-centered teaching approaches. This includes scaffolding on student experience and prior learning; utilizing culture-responsive scenarios and materials; incorporating arts, and music in imparting health messages; engaging learners in meaningful games and cooperative learning activities; and using life skills and value-based strategies particularly in discussing sensitive topics such as substance abuse and sexuality. The teacher is also advised to use differentiated instruction in order to cater to the learners' various needs and abilities
Source: Department of Education
———-
We are always on the process of uploading GRADE 4 Teachers Guide. As requested, here are the file links. The remaining files will be uploaded soon. Please check this section from time to time.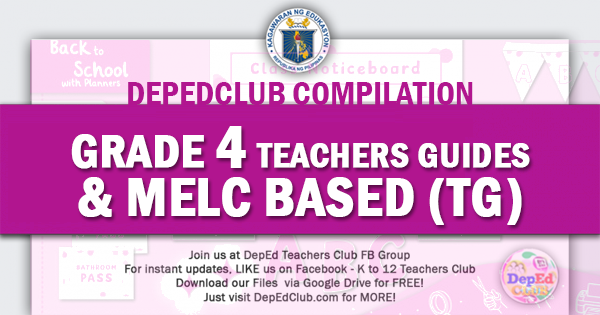 GRADE 4 Teachers Guide & MELC Based TG | Links FIXED!
ARALING PANLIPUNAN 4 Teachers Guide
ENGLISH 4 Teachers Guide
EPP 4 Teachers Guide
ESP 4 Teachers Guide
FILIPINO 4 Teachers Guide
MAPEH 4 Teachers Guide
MUSIC 4 Teachers Guide
HEALTH 4 Teachers Guide
P.E. 4 Teachers Guide
MATH 4 Teachers Guide
SCIENCE 4 Teachers Guide
New! MELC Based Teachers Guides
IMPORTANT: HOW TO DOWLOAD FILES IN GOOGLE DRIVE
FOR MS OFFICE FILES:
1. Click on the file link in our website.

2. You will be redirected to the file location via Google Drive.

3. On the upper left side of your screen, Go to FILE menu. Click DOWNLOAD, then Select Microsoft Word for the editable file format.
FOR OTHER FILES:
1. On the upper right hand corner of your screen, look for the Down Arrow Download Button just as below:

If you encounter an Error while downloading the files, please Log-in to your Gmail account (Here – mail.google.com) , then try again to click the Download Link in Google Drive. Thank you.
Additional files to be uploaded soon.
We are always on the process of uploading new files.
For additional updates and unannounced uploads, please visit this section from time to time.
Like us on Facebook to get INSTANT UPDATES. CLICK HERE
You can also BOOKMARK this page in your web browser by clicking Ctrl+D in your keyboard for faster access in the future. Thank you fellow Teachers.
We at DepEd Teachers Club are always grateful to all our File Authors and File Contributors. Credit goes to all of them. Let us all give them thanks and show our support for all their works.
We are also thankful for all our File Editors, Sharers, Tech Volunteers and fellow Teachers for helping us and making this kind of service possible.
MORE DOWNLOADABLE FILES