In this article, you will find our compiled GRADE 3 Teachers Guide. We aim to complete all the GRADE 3 Teachers Guide to make them available to our fellow teachers and help them complete their resources to make their efforts more directed into the actual teaching process.
You will find the GRADE 3 Teachers Guide download links at the bottom of this article. If you have time, please read the article below for additional background about the K-12 curriculum.
———- EDUKASYONG PANTAHANAN AT PANGKABUHAYAN (EPP) and TECHNOLOGY AND LIVELIHOOD EDUCATION (TLE) – Description of Framework
Technology and Livelihood Education encompasses the field of Home Economics (H.E.); Industrial Arts (IA); Agri-Fishery Arts (AFA); and Information, Communication. and Technology (ICT). The 24 TLE courses can be categorized under any of these fields.
TLE as a course has two streams—the TR-based TLE and the Entrepreneur-based TLE—and every school has a choice as to which stream to offer, with consideration for faculty, facilities, and resources. Both streams are based on the Training Regulations, but the Entrepreneur-based TLE embeds entrepreneurship concepts in the teaching of the various subjects in HE , IA, AFA, and ICT.
TLE is geared toward the development of technological proficiency and is anchored on knowledge and information, entrepreneurial concepts, process and delivery, work values, and lifeskills. This means that the TLE that works is one which is built on adequate mastery of knowledge and information, skills and processes, and the acquisition of right work values and life skills. The TLE that is functional is one whichequips students with skills for lifelong learning. TLE that is concerned only with mere definition of terms is meaningless and shallow. TLE that is focused on mastery of skills and processes without right work values is anemic and dangerous. An effective TLE is one that is founded on the cognitive, behavioral, or psychomotor and affective dimensions of human development. Therefore teaching TLE means teaching facts, concepts, skills, and values in their entirety.
Entrepreneurial concepts also form part of the foundation of quality TLE. It is expected that TLE students, after using the Learning Modules on Entrepreneurship-based TLE, imbibe the entrepreneurial spirit and consequently set up their own businesses in the areas of Agri-Fishery Arts, Industrial Arts, Home Economics, and Information and Communication Technology. TLE by its nature is dominantly a skill subject; hence the teacher must engage students in an experiential, contextualized, and authentic teaching-learning process. It is a subject in whichstudentslearn best by doing. It is integrative in approach. For instance, it integrates entrepreneurship with all the areas of TLE. It integrates concepts, skills, and values
Source: Department of Education
———-
We are always on the process of uploading GRADE 3 Teachers Guide. As requested, here are the file
links. The remaining files will be uploaded soon. Please check this section from time to time.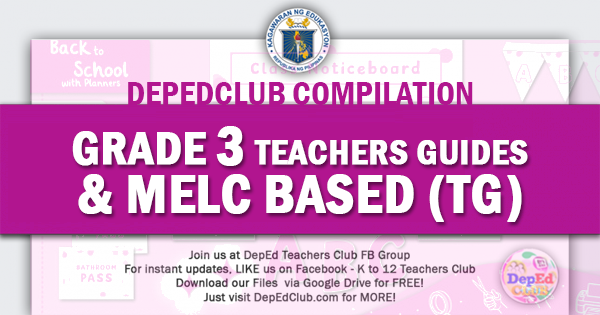 GRADE 3 Teachers Guide & MELC Based TG | Links FIXED!
ARALING PANLIPUNAN 3 Teacher's Guide
ENGLISH 3 Teacher's Guide
ESP 3 Teachers Guide
FILIPINO 3 Teachers Guide
MAPEH 3 Teachers Guide
ARTS 3 Teachers Guide
HEALTH 3 Teachers Guide
MUSIC 3 Teachers Guide
P.E. 3 Teachers Guide
MATHEMATICS 3 Teacher's Guide
MTB 3 Teacher's Guide
SCIENCE 3 Teacher's Guide
New! MELC Based Teachers Guides
IMPORTANT: HOW TO DOWLOAD FILES IN GOOGLE DRIVE
FOR MS OFFICE FILES:
1. Click on the file link in our website.

2. You will be redirected to the file location via Google Drive.

3. On the upper left side of your screen, Go to FILE menu. Click DOWNLOAD, then Select Microsoft Word for the editable file format.
FOR OTHER FILES:
1. On the upper right hand corner of your screen, look for the Down Arrow Download Button just as below:

If you encounter an Error while downloading the files, please Log-in to your Gmail account (Here – mail.google.com) , then try again to click the Download Link in Google Drive. Thank you.
Additional files to be uploaded soon.
We are always on the process of uploading new files.
For additional updates and unannounced uploads, please visit this section from time to time.
Like us on Facebook to get INSTANT UPDATES. CLICK HERE
You can also BOOKMARK this page in your web browser by clicking Ctrl+D in your keyboard for faster access in the future. Thank you fellow Teachers.
We at DepEd Teachers Club are always grateful to all our File Authors and File Contributors. Credit goes to all of them. Let us all give them thanks and show our support for all their works.
We are also thankful for all our File Editors, Sharers, Tech Volunteers and fellow Teachers for helping us and making this kind of service possible.
MORE DOWNLOADABLE FILES