You may find our collection of GRADE 3 Learners Materials – 2nd Quarter | Learning Materials in this article. Our goal is to finish all of the GRADE 3 Learners Materials (LM) so that we can make them available to teachers to assist them in finishing their materials so that their efforts are more focused on the actual teaching process.
Instructional materials
To teach is to convey a concept. A communication consists of three crucial components: the transmitter of the information, the message or information, and the recipient. Interest-building among students is crucial during the educational process. If curiosity is generated properly, learning can proceed successfully.
The utilization of instructional materials is crucial for this goal since they have the capacity to spark students' interest in the teaching-learning process. According to studies, the average person only retains 10percent of what they read, 50percent of what they see and hear, and more than 70percent of what they hear, see, and do. It seems crucial that a teacher set up several tools with which he might facilitate easy, joyful, and consistent learning in order to improve the classroom instruction.
Teaching materials are tools and pieces of equipment used to support in-class learning and pique students' interests. The key to effective instruction is the use of appropriate teaching materials. The teacher has access to a wide range of instructional aids in addition to traditional techniques of instruction. They aid learners in developing their reading and other skills. The use of the most recent technologies is essential to teaching and learning in the sciences and technology of today.
Because students are directly involved in the teaching-learning process when a teacher uses a variety of teaching materials, learning becomes more engaging. It makes school fun and memorable. In order to create effective teaching and learning environments, instructional materials are essential. These tools speak directly to the five senses, reducing the likelihood of forgetting and enhancing the learning process.
For instance, while teaching a language, the use of teaching materials and aids is crucial because everyone has a tendency to forget, but with the right application, learning can be permanently retained. The utilization of all teaching materials in the classroom can effectively inspire pupils to study more. As each person has a different degree of understanding, it is also crucial that learning materials cater to the demands of the students. Students, especially more educated adults and teenagers, need to feel that the learning materials they are using are relevant to real-world situations and, at the same time, are positively related to aspects of their inner selves, such as age, education level, social attitudes, intellectual ability, and emotional maturity.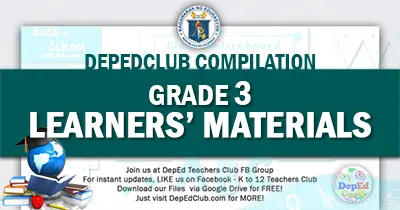 GRADE 3 LEARNERS MATERIALS / Learning Materials – 2nd QUARTER
ARALING PANLIPUNAN 3 Learners Materials / Learning Materials
Ang Mga Kwento ng Mga Lalawigan sa Sariling Rehiyon
ART 3 Learners Materials / Learning Materials
Painting
ENGLISH 3 Learners Materials / Learning Materials
Grammar
ESP 3 Learners Materials / Learning Materials
Mahal Ko, Kapwa Ko
MTB 3 Learners Materials / Learning Materials
Akeanon
Bikol
Pangasinan
Sambal
Sinugbuanong Binisaya
Surigaonon
Tausug
Waray
Yakan
MUSIC 3 Learners Materials / Learning Materials
Melody and Form
SCIENCE 3 Learners Materials / Learning Materials
Living Things and Their Environment
These instructional materials were collaboratively developed and reviewed by educators from public and private schools, colleges, and/or universities. Please Share.
/ Learning Materials / Learners Materials / Instructional Materials
IMPORTANT GUIDE:
MORE DOWNLOADABLE FILES
We are always on the process of uploading new files.
For additional updates and unannounced uploads, please visit this section from time to time.
Like us on Facebook to get INSTANT UPDATES. CLICK HERE
You can also BOOKMARK this page in your web browser by clicking Ctrl+D in your keyboard for faster access in the future. Thank you fellow Teachers.
We at DepEd Teachers Club are always grateful to all our File Authors and File Contributors. Credit goes to all of them. Let us all give them thanks and show our support for all their works.
We are also thankful for all our File Editors, Sharers, Tech Volunteers and fellow Teachers for helping us and making this kind of service possible.