In this article, you will find our compiled GRADE 2 Teachers Guide. We aim to complete all the GRADE 2 Teachers Guide to make them available to our fellow teachers and help them complete their resources to make their efforts more directed into the actual teaching process.
You will find the GRADE 2 Teachers Guide download links at the bottom of this article. If you have time, please read the article below for additional background about the K-12 curriculum.
———- PHILOSOPHY AND RATIONALE FOR ENGLISH IN K-12 CURRICULUM
Language is the basis of all communication and the primary instrument of thought. Thinking, learning, and language are interrelated. Language is governed by rules and systems (language conventions) which are used to explore and communicate meaning. It defines culture which is essential in understanding oneself (personal identity), forming interpersonal relationships (socialization), extending experiences, reflecting on thought and action, and contributing to a better society. Language, therefore, is central to the peoples' intellectual, social and emotional development and has an essential role in all key learning areas.
Language is the foundation of all human relationships. All human relationships are established on the ability of people to communicate effectively with each other. Our thoughts, values and understandings are developed and expressed through language. This process allows students to understand better the world in which they live and contributes to the development of their personal perspectives of the global community. People use language to make sense of and bring order to their world. Therefore, proficiency in the language enables people to access, process and keep abreast of information, to engage with the wider and more diverse communities, and to learn about the role of language in their own lives, and in their own and other cultures.
GUIDING PRINCIPLES
The K-12 Language Arts and Multiliteracies Curriculum is anchored on the following language acquisition, learning, teaching and assessing principles. All languages are interrelated and interdependent. Facility in the first language (L1) strengthens and supports the learning of other languages (L2). Acquisition of sets of skills and implicit metalinguistic knowledge in one language (common underlying proficiency or CUP) provides the base for the development of both the first language (L1) and the second language (L2).
It follows that any expansion of CUP that takes place in one language will have a beneficial effect on the other language(s). This principle serves to explain why it becomes easier and easier to learn additional languages. Language acquisition and learning is an active process that begins at birth and continues throughout life. It is continuous and recursive throughout students' lives. Students enhance their language abilities by using what they know in new and more complex contexts and with increasing sophistication (spiral progression). They reflect on and use prior knowledge to extend and enhance their language and understanding. By learning and incorporating new language structures into their repertoire and using them in a variety of contexts, students develop language fluency and proficiency. Positive learning experiences in language-rich environments enable students to leave school with a desire to continue to extend their knowledge, skills and interests.
Learning requires meaning. We learn when we use what we know to understand what is new. Start with what the students know; use that to introduce new concepts. They use language to examine new experiences and knowledge in relation to their prior knowledge, experiences, and beliefs. They make connections, anticipate possibilities, reflect upon ideas, and determine courses of action.
Learners learn about language and how to use it effectively through their engagement with and study of texts. The term 'text' refers to any form of written (reading and writing), oral (listening and speaking) and visual communication involving language. The texts through which students learn about language are wide-ranging and varied, from brief conversations to lengthy and complex forms of writing. The study of specific texts is the means by which learners achieve the desired outcomes of language, rather than an end in itself. Learners learn to create texts of their own and to engage with texts produced by other people.
Source: Department of Education
———-
We are always on the process of uploading GRADE 2 Teachers Guide. As requested, here are the file
links. The remaining files will be uploaded soon. Please check this section from time to time.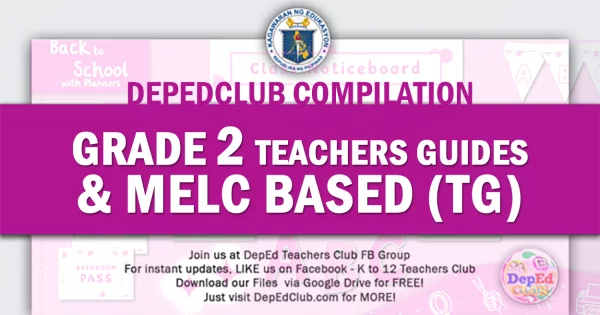 GRADE 2 Teachers Guide & MELC Based TG | Links FIXED!
ARALING PANLIPUNAN 2 Teachers Guide
ENGLISH 2 Teachers Guide
ESP 2 Teachers Guide
FILIPINO 2 Teachers Guide
MAPEH 2 Teachers Guide
MATH 2 Teachers Guide
MTB Teachers Guide
New! MELC Based Teachers Guides
IMPORTANT: HOW TO DOWLOAD FILES IN GOOGLE DRIVE
FOR MS OFFICE FILES:
1. Click on the file link in our website.

2. You will be redirected to the file location via Google Drive.

3. On the upper left side of your screen, Go to FILE menu. Click DOWNLOAD, then Select Microsoft Word for the editable file format.
FOR OTHER FILES:
1. On the upper right hand corner of your screen, look for the Down Arrow Download Button just as below:

If you encounter an Error while downloading the files, please Log-in to your Gmail account (Here – mail.google.com) , then try again to click the Download Link in Google Drive. Thank you.
Additional files to be uploaded soon.
We are always on the process of uploading new files.
For additional updates and unannounced uploads, please visit this section from time to time.
Like us on Facebook to get INSTANT UPDATES. CLICK HERE
You can also BOOKMARK this page in your web browser by clicking Ctrl+D in your keyboard for faster access in the future. Thank you fellow Teachers.
We at DepEd Teachers Club are always grateful to all our File Authors and File Contributors. Credit goes to all of them. Let us all give them thanks and show our support for all their works.
We are also thankful for all our File Editors, Sharers, Tech Volunteers and fellow Teachers for helping us and making this kind of service possible.
MORE DOWNLOADABLE FILES