To help teachers in downloading the needed learners materials required for the curriculum, we have uploaded the GRADE 2 Learners Materials – 2nd Quarter | Learning Materials.
Learning and Instructional Materials
A teacher uses instructional resources to make their lessons easier to understand. They can either be made of concrete or not, and they can be either visual or audio-visual aids. These educational resources motivate kids to learn, bringing learning to life. The teacher may be able to better explain new concepts with the aid of instructional materials, which would improve the comprehension of the ideas being taught by the students. It is believed that while effective teaching tools can never fully replace a teacher, they can help the instructor accomplish their goals for both teaching and learning. The blackboard, figures, charts, tables, layouts, drawings, drawings, comics, slideshows, videos, radio, and television are just a few examples of the instructional tools required for successful teaching and learning. It is impossible to overstate how important using these materials is. Without instructional materials, the curriculum would be difficult to apply. They are essential components of learning. A teacher who has access to adequate and useful teaching resources is more self-assured, efficient, and effective. The use of pertinent educational materials enables students to comprehend conflict and conflict management in great detail. A lesson can quickly become overly focused on rote learning and recitation, thus instructional materials are crucial because they assist the teacher and students in avoiding this. Resource materials give students the opportunity to engage in hands-on learning that aids in the development of concepts and skills as well as a variety of learning styles.
The suggestion is that many senses other than auditory alone must be aroused in order for more information to be assimilated. The usage of audiovisual resources can excite the senses when studying and teaching. The learning objectives for instructional materials must be met, they must be validated, and their effects must be assessed.
Because instructional resources are only as good as the teachers who use them, no material is completely self-teaching; all require a teacher to establish the conditions for learning to occur. If instructional materials are appropriately chosen and used, the following would happen:
Learning would be exciting and worthwhile.
Acquired knowledge would last longer in memory.
Learners would pick up various skills.
During lessons, students would be actively engaged.
It is evident from the aforementioned points of view that educational resources are crucial for efficient instruction and should be made sufficiently available in all institutions. There must be sufficient resources and facilities if learning materials are to be utilized effectively.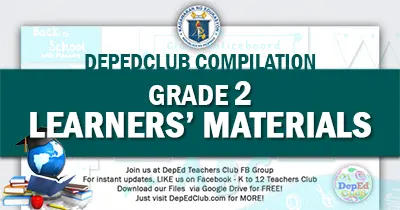 Grade 2 Learners Materials / Learning Materials – 2nd Quarter
ARALING PANLIPUNAN 2 Learners Materials / Learning Materials
Ang Aking Komunidad Ngayon at Noon
ART 2 Learners Materials / Learning Materials
Painting
ENGLISH 2 Learners Materials / Learning Materials
ESP 2 Learners Materials / Learning Materials
Mahal Ko, Kapwa Ko
FILIPINO 2 Learners Materials / Learning Materials
HEALTH 2 Learners Materials / Learning Materials
Personal Health
MUSIC 2 Learners Materials / Learning Materials
Melody, Form
PHYSICAL EDUCATION 2 Learners Materials / Learning Materials
Locations, Directions, Levels, Pathways and Planes
These instructional materials were collaboratively developed and reviewed by educators from public and private schools, colleges, and/or universities. Please Share.
/ Learning Materials / Learners Materials / Instructional Materials
IMPORTANT GUIDE:
MORE DOWNLOADABLE FILES
We are always on the process of uploading new files.
For additional updates and unannounced uploads, please visit this section from time to time.
Like us on Facebook to get INSTANT UPDATES. CLICK HERE
You can also BOOKMARK this page in your web browser by clicking Ctrl+D in your keyboard for faster access in the future. Thank you fellow Teachers.
We at DepEd Teachers Club are always grateful to all our File Authors and File Contributors. Credit goes to all of them. Let us all give them thanks and show our support for all their works.
We are also thankful for all our File Editors, Sharers, Tech Volunteers and fellow Teachers for helping us and making this kind of service possible.