Good day fellow Teachers! We had a lot of struggles in our beloved profession but we made it to this new school year together – supporting and sharing our knowledge for the welfare of each other. We are always there for each other as we dream of a smooth and productive school year. Together we will withstand any challenge. And now, we have uploaded Grade 2 Whole Year Weekly Home Learning Plan.
.
Thanks to all our Contributors, File Editors and Tech Volunteers who selflessly manage our website contents as well as our social media accounts. Thanks to all of you for your continued support and your collective ideas.
And now as we start on another journey with our students and new challenges that are yet to come, we shall stick together as one – a solid DepEd Teachers Club!
Featured reading:
Planning Student Assessment
Teachers need to be creative and flexible in assessing student learning, while still adhering to the principles of quality assessment practice. With safety, health, and well-being foremost in mind, assessment decisions must be made in the best interest of all learners, ensuring that all assessment activities:
align with the most essential learning competencies;
are reliable, valid and transparent;
are fair, inclusive and equitable;
are practical and manageable for both learners and teachers;
give learners a range of ways to demonstrate their learning; and
provide timely and accurate information as basis for feedback.
In distance learning modalities, teachers shall design assessments bearing the assumption that the learners will asynchronously take them and have open access to various sources.
When deciding on which assessment methods to use, it is important to consider the following questions:
What is the purpose of the assessment?
What will be assessed?
Which method would best allow learners to demonstrate what they have learned, considering their learning modality?
Which method would make it easy to gather evidence of learners' progress over time?
Will the assessment be completed individually or in groups?
Will the assessment be taken at the same time or submitted within a specific period?
How will class size affect the way the assessment will be conducted?
How can technology help?
In order to inform teaching and promote growth and mastery, formative assessment strategies should:
establish clear learning targets and success criteria;
elicit useful evidence of learning;
provide timely and effective feedback;
engage learners in assessing and improving each other's work; and
increase ownership of their own learning
Teachers are highly encouraged to adapt these techniques where appropriate, and to explore other alternatives that are feasible in their respective contexts.
Formative assessment is about getting better, so it should be specific, frequent, repetitive, and free from the restrictions of grading (Christodolou, 2016). It should target skills that are necessary to the attainment of learning competencies as measured in summative assessments.
To evaluate student learning at particular points in each quarter, summative assessments shall continue in the form of written works and performance tasks.
Written works shall be administered to assess essential knowledge and understandings through quizzes and long/unit tests. Items should be distributed across the Cognitive Process Dimensions (DepEd, 2015, p. 4) using a combination of selected-response and constructed response formats so that all are adequately covered.
Performance tasks refer to assessment tasks that "allow learners to show what they know and are able to do in diverse ways. They may create or innovate products or do performance-based tasks [including] skill demonstrations, group presentations, oral work, multimedia presentations, and research projects. It is important to note that written outputs may also be considered as performance tasks"
Performance tasks must be designed to provide opportunities for learners to apply what they are learning to real-life situations. In addition, teachers should take into consideration the following:
Each task must be accompanied with clear directions and appropriate scoring tools (i.e. checklists, rubrics, rating scale, etc.) to help learners demonstrate their learning (see Annex C for sample scoring tools).
Teachers are advised to collaboratively design and implement performance tasks that integrate two or more competencies within or across subject areas. Complex tasks may be broken down into shorter to be completed over longer periods of time (see Annex D for sample integrative assessment tasks).
Learners must be given flexibility in the accomplishment of the performance tasks to consider time and resources available to them. Nonetheless, all learners within a class should be assessed on the same competencies using the same scoring tool,
Teachers must exercise their professional judgment in carrying out summative assessments, providing enough opportunities for learners to practice and to redo their work whenever necessary, so that they can reach their learning targets with the least amount of pressure.
Continue reading here: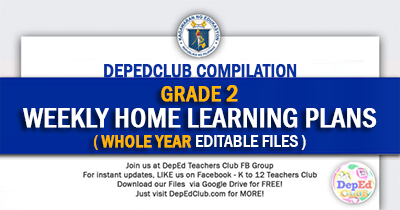 Grade 2 Whole Year Weekly Home Learning Plan
GRADE 2 – 1st Quarter Weekly Home Learning Plan
GRADE 2 – 2nd Quarter Weekly Home Learning Plan
GRADE 2 – 3rd Quarter Weekly Home Learning Plan
GRADE 2 – 4th Quarter Weekly Home Learning Plan
IMPORTANT: HOW TO DOWLOAD FILES IN GOOGLE DRIVE
FOR MS OFFICE FILES:
1. Click on the file link in our website.
2. You will be redirected to the file location via Google Drive.
3. On the upper left side of your screen, Go to FILE menu. Click DOWNLOAD, then Select Microsoft Word for the editable file format.
FOR OTHER FILES:
1. On the upper right hand corner of your screen, look for this button to Download the file —>

If you encounter an Error while downloading the files, please Log-in to your Gmail account (Here – mail.google.com) , then try again to click the Download Link in Google Drive. Thank you.
Additional files to be uploaded soon.
We are always on the process of uploading new files.
For additional updates and unannounced uploads, please visit this section from time to time.
Like us on Facebook to get INSTANT UPDATES. CLICK HERE
You can also BOOKMARK this page in your web browser by clicking Ctrl+D in your keyboard for faster access in the future. Thank you fellow Teachers.
We at DepEd Teachers Club are always grateful to all our File Authors and File Contributors. Credit goes to all of them. Let us all give them thanks and show our support for all their works.
We are also thankful for all our File Editors, Sharers, Tech Volunteers and fellow Teachers for helping us and making this kind of service possible.