Good day fellow Teachers! We had a lot of struggles in our beloved profession but we made it to this new school year together – supporting and sharing our knowledge for the welfare of each other. We are always there for each other as we dream of a smooth and productive school year. Together we will withstand any challenge. And now, we have uploaded Grade 3 Whole Year Weekly Home Learning Plan | Grade 3 WHLP.
.
Thanks to all our Contributors, File Editors and Tech Volunteers who selflessly manage our website contents as well as our social media accounts. Thanks to all of you for your continued support and your collective ideas.
And now as we start on another journey with our students and new challenges that are yet to come, we shall stick together as one – a solid DepEd Teachers Club!
Featured reading:
Conducting Assessment Remotely
Communicating the assessment task. In communicating the assessment task, teachers must ensure that the following details are explained:
Objectives of the assessment task
Roles of learners and parents/guardians
Procedure and expected timeline
Standards and rubrics
The teacher must consult the learners and, when necessary, parents/guardians, to allow room for adjustments/flexibilities needed, if any.
Record of progress. The collection and recording of evidences of learning is integral for monitoring student learning and development. Listed below are some sample strategies for this purpose:
Self-Monitoring Tool (see Annex E; consider the needs of learners per key stage, e.g. early grades need assistance from parents, while older learners are expected to accomplish self-reflection tools on their own.)
Check-ins of teacher with learner (during assessment period)
Evidence of learning in the student's learning portfolio
Feedback and Remediation
To benefit student learning, both formative and summative assessment must be accompanied with timely, constructive, and meaningful feedback based on the learner's record of progress. In giving feedback, teachers need to maximize available communication options (e.g. writing feedback on the output, texting feedback via SMS, and using online channels, among others). Annex F provides a guide to help frame decisions on appropriate feedback to learners.
Consistent with DO No. 8, s. 2015, "teachers should ensure that learners remediation when they earn raw scores which are consistently below expectation" in summative assessments "by the fifth week of any quarter. This prevent a student from failing in any learning area at the end of the year."
Grading and Promotion
The challenges brought to light by the coronavirus pandemic, specifically the implementation of different distance learning delivery modalities, have sparked larger conversation about the role grades play in student learning, prompting education sectors to rethink traditional grading schemes. The grading system implemented in this interim policy provides reasonable leniency to learners who put to a larger disadvantage by the pandemic, but at the same does not compromise the integrity and principles of assessment and grading.
Written works and performance tasks shall be administered to assess the content and performance standards that describe the knowledge, abilities and skills that learners are expected to demonstrate.
These tasks could be designed to include the following:
Student's Learning Portfolio that documents all the evidence of learning the grading period including self-reflections, self-evaluations of performance tasks guided by rubrics, and self-selected best outputs in learning modules.
Minimum of four (4) written works and four (4) performance tasks within the quarter, preferably one in two weeks integrating two or more competencies.
All competencies should be covered by the performance tasks (e.g. A performance task can be used to assess Science, Math, and English altogether for certain topics).
For the current school year, quarterly assessments shall not be administered. However, days allotted for quarterly assessments in DepEd Order 7, s. 2020 or the School Calendar and Activities for School Year 2020-2021, may be used for the presentation of major performance for the quarter that addresses the performance standard.
Quarterly Examinations were given a weight of 20% constantly in DO No. 8, s. 2015. Since it will no longer be a part of the grading system for this school year, its previously determined weight was distributed equally into Written Works Performance Tasks, allotting an additional 10% to each component. This maintains an emphasis on Performance Tasks for some learning areas.
Continue reading here: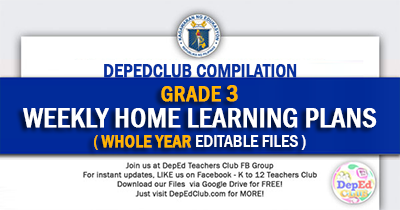 Grade 3 Whole Year Weekly Home Learning Plan
GRADE 3 – 1st Quarter Weekly Home Learning Plan
GRADE 3 – 2nd Quarter Weekly Home Learning Plan
GRADE 3 – 3rd Quarter Weekly Home Learning Plan
GRADE 3 – 4th Quarter Weekly Home Learning Plan
IMPORTANT: HOW TO DOWLOAD FILES IN GOOGLE DRIVE
FOR MS OFFICE FILES:
1. Click on the file link in our website.
2. You will be redirected to the file location via Google Drive.
3. On the upper left side of your screen, Go to FILE menu. Click DOWNLOAD, then Select Microsoft Word for the editable file format.
FOR OTHER FILES:
1. On the upper right hand corner of your screen, look for this button to Download the file —>

If you encounter an Error while downloading the files, please Log-in to your Gmail account (Here – mail.google.com) , then try again to click the Download Link in Google Drive. Thank you.
Additional files to be uploaded soon.
We are always on the process of uploading new files.
For additional updates and unannounced uploads, please visit this section from time to time.
Like us on Facebook to get INSTANT UPDATES. CLICK HERE
You can also BOOKMARK this page in your web browser by clicking Ctrl+D in your keyboard for faster access in the future. Thank you fellow Teachers.
We at DepEd Teachers Club are always grateful to all our File Authors and File Contributors. Credit goes to all of them. Let us all give them thanks and show our support for all their works.
We are also thankful for all our File Editors, Sharers, Tech Volunteers and fellow Teachers for helping us and making this kind of service possible.