Was this helpful?
One of the key to unlocking our students' potential is giving them important work that matters to them. In teaching, we often struggle to find ways on how to engage our students into the learning contents. That's why we strive harder in making interesting activities for students.
As we all know, direct instruction involves getting in front of the class and teaching the required materials based on our lesson plan. We all know that direct instruction can be so much more than that. We as teachers, need to be doing more to get our students engaged in taking an active role in their learning.
Making our classes more interactive should help our students want to come to class and take part in it. Giving them a more active role will give them a sense of ownership.
Students learn through their participation in the attainment of knowledge by gathering information and processing it by solving problems and articulating what they have discovered. Each activity provides students with opportunities to deepen their learning by applying concepts and articulating new knowledge which in return provide us teachers with feedback about our students' learning.
You can download these Activities for Students for Free via our Google drive links, safer and faster. We are always on the process of updating our database for activities for students.
Please LIKE us and SHARE this on Facebook to get instant notifications for new and unannounced uploads. Thank you fellow Teachers. Credits to all our File Contributors.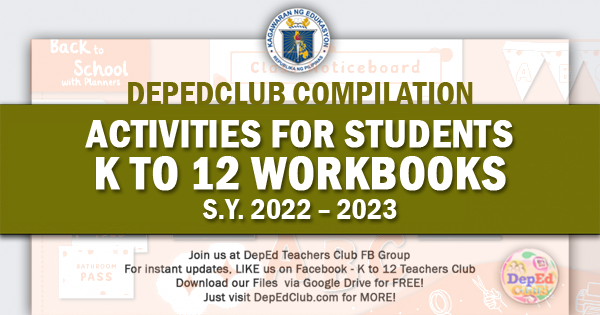 Activities for Students | Download Links FIXED!
MATH Activity Sheets for Students
ARTS Activity Sheets for Students
COLORING SHEETS Workbooks for Students
K to 12 Workbooks | DepEd Teachers Club
ENGLISH Workbooks for Students
FILIPINO Workbooks for Students
GRAMMAR Practice Workbooks for Students
HANDWRITING Practice Workbooks for Students
MATHEMATICS Workbooks for Students
SCIENCE Workbooks for Students
IMPORTANT: HOW TO DOWLOAD FILES IN GOOGLE DRIVE
FOR MS OFFICE FILES:
1. Click on the file link in our website.
2. You will be redirected to the file location via Google Drive.
3. On the upper left side of your screen, Go to FILE menu. Click DOWNLOAD, then Select Microsoft Word for the editable file format.
FOR OTHER FILES:
1. On the upper right hand corner of your screen, look for the Down Arrow Download Button just as below:

If you encounter an Error while downloading the files, please Log-in to your Gmail account (Here – mail.google.com) , then try again to click the Download Link in Google Drive. Thank you.
Additional files to be uploaded soon.
We are always on the process of uploading new files. For additional updates and unannounced uploads, please visit this section from time to time. Like us on Facebook to get INSTANT UPDATES. CLICK HERE You can also BOOKMARK this page in your web browser by clicking Ctrl+D in your keyboard for faster access in the future. Thank you fellow Teachers.
We at DepEd Teachers Club are always grateful to all our File Authors and File Contributors. Credit goes to all of them. Let us all give them thanks and show our support for all their works. We are also thankful for all our File Editors, Sharers, Tech Volunteers and fellow Teachers for helping us and making this kind of service possible.
MORE DOWNLOADABLE FILES
Was this helpful?