To help teachers in their classroom instruction and to make learning more interesting and conducive for students, we have uploaded our collection of Activities for Students for the school year 2022 – 2023. We are always on the process of updating our database for activities for students.
Activities for Students
One of the key to unlocking students' potential is giving them important work that matters to them. In teaching, we often struggle to find ways on how to engage our students into the learning contents. That's why we strive harder in making interesting activities for students.
As we all know, direct instruction involves getting in front of the class and teaching the required materials based on our lesson plan. We all know that direct instruction can be so much more than that. We as teachers, need to be doing more to get our students engaged in taking an active role in their learning.
Making our classes more interactive should help our students want to come to class and take part in it. Giving them a more active role will give them a sense of ownership.
Students learn through their participation in the attainment of knowledge by gathering information and processing it by solving problems and articulating what they have discovered. Each activity provides students with opportunities to deepen their learning by applying concepts and articulating new knowledge which in return provide us teachers with feedback about our students' learning.
There are various aspects of teaching, but the one that receives the most attention is teacher effectiveness, with the idea that if teachers want to effectively manage the teaching and support students' learning, they must embrace and use cutting-edge classroom management techniques. Learning entails changing one's behavior, and teaching is primarily a two-way task because the teacher is the more experienced party and delivers the information while the students absorb it. For this reason, a classroom is a setting that is specifically designed for the teaching and learning processes.
The value of activities for students should be remembered by teachers, who should be aware of them. The activities for students engage the students and encourage them to pick up new knowledge. The color of the classroom walls and doors, decorations, amusement, and attentiveness are just a few examples of classroom characteristics that are discussed in numerous exports regarding classroom development. All of these elements have an impact on how well students learn, which increases the effectiveness and excitement of the teaching-learning process for students.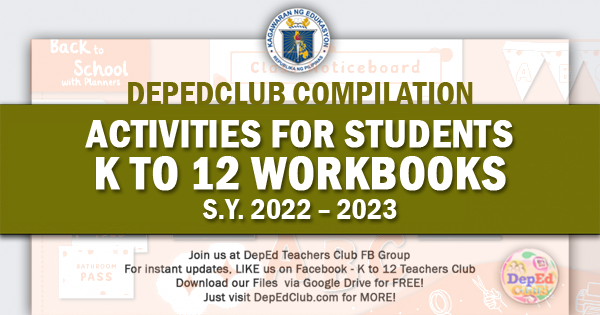 Activities for Students | Download Links FIXED!
MATH Activity Sheets for Students
ARTS Activity Sheets for Students
COLORING SHEETS Workbooks for Students
K to 12 Workbooks | DepEd Teachers Club
ENGLISH Workbooks for Students
FILIPINO Workbooks for Students
GRAMMAR Practice Workbooks for Students
HANDWRITING Practice Workbooks for Students
MATHEMATICS Workbooks for Students
SCIENCE Workbooks for Students
These instructional materials were collaboratively developed and reviewed by educators from public and private schools, colleges, and/or universities. Please Share.
ALSO AVAILABLE:
IMPORTANT GUIDE:
MORE DOWNLOADABLE FILES
Activities for Students | Classroom Observation Tools | Daily Lesson Log | Diagnostic Test | Exams | Inspirational Stories | Instructional Materials | Learners Material | Periodical Tests | Powerpoint Presentations | RPMS | Short Stories | Summative Tests | Weekly Daily Lesson Log | Weekly Home Learning Plan | Weekly Learning Plan | Workbooks
/ Learning Materials / Learners Materials / Instructional Materials
We are always on the process of uploading new files.
For additional updates and unannounced uploads, please visit this section from time to time.
Like us on Facebook to get INSTANT UPDATES. CLICK HERE
You can also BOOKMARK this page in your web browser by clicking Ctrl+D in your keyboard for faster access in the future. Thank you fellow Teachers.
We at DepEd Teachers Club are always grateful to all our File Authors and File Contributors. Credit goes to all of them. Let us all give them thanks and show our support for all their works.
We are also thankful for all our File Editors, Sharers, Tech Volunteers and fellow Teachers for helping us and making this kind of service possible.