UPDATE! You will find the Google download links for the 1st Quarter Learners Materials / K- 12 Learners Materials after the article below. You may read the following article or you may scroll down directly for the download links.
K- 12 Learner's Materials / Learning Materials are the resources teachers use to deliver instruction that can support student learning and increase student success. Learning materials cannot be devised or thought of on their own without linking them with the objective of an education program. For any education program, learning material is devised by linking up with the curricular objective. Most often in rural communities, they are left with a bare set of textbooks to use without additional learning materials. That's why K-12 Learners Materials are now available for download online via our website DepEdClub.com
Learners Materials / Learning Materials are important because they increase the possibility of student achievement by reinforcing their learning. For example, a worksheet practices students on new skills gained in class. With the immediate process of repetition and reinforcement, the retention of information and comprehension is improved. It helps in the learning process by allowing the student to explore the knowledge independently by practicing the new information under teacher supervision and guidance. Learning materials, regardless of what kind, all have some function in student learning – to help them improve the process of learning.
The Department of Education has made available the Learning Resources Management and Development System (LRMDS). This system comprises four integrated sub-systems designed to support increased distribution and access to learning, teaching and professional development resources at the region, division and school or cluster levels of the Department of Education.
For many years, development partner interventions on classroom materials have been concerned mainly with the provision of textbooks and teachers' guides. However, textbooks by themselves cannot provide everything required to achieve curriculum objectives. This is particularly true where outcomes-based curricula, student-centred learning, problem solving and the development of thinking skills are specified.
The range of possible materials that can be used to support education objectives is so great, and costs are usually so constrained, that curriculum developers and syllabus writers should be encouraged to develop a Minimum Profile of Learning and Teaching Materials needed to deliver their own curriculum objectives. This will ensure that the cost implications of curriculum decisions are clearly established at the outset.
Learning and teaching materials are critical ingredients in learning and the intended curriculum cannot be easily implemented without them. Over the past forty years the importance of adequate Learning and Teaching Materials provision (including textbooks, teachers' guides and supplementary materials) to support educational development and quality upgrading has been recognised by governments throughout the developing world and by most development partners. There is now substantial research evidence which shows that textbooks are one of the most important inputs that have a demonstrable impact on student learning.
We are always updating and uploading our sourced from the Department of Education K-12 Learner's Materials / Learning Materials. You will find the file links below. Please check this section from time to time because the remaining files will be uploaded soon.
K-12 Learner's Materials / Learning Materials files are now available for download. You can download the files easily.
God bless us all!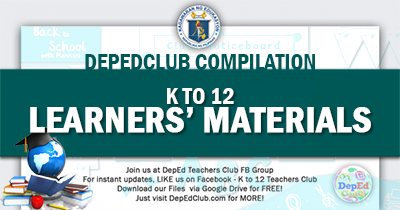 1st Quarter K-12 Learners Materials / Learning Materials
IMPORTANT: HOW TO DOWLOAD FILES IN GOOGLE DRIVE
FOR MS OFFICE FILES:
1. Click on the file link in our website.
2. You will be redirected to the file location via Google Drive.
3. On the upper left side of your screen, Go to FILE menu. Click DOWNLOAD, then Select Microsoft Word for the editable file format.
FOR OTHER FILES:
1. On the upper right hand corner of your screen, look for this button to Download the file —>

If you encounter an Error while downloading the files, please Log-in to your Gmail account (Here – mail.google.com) , then try again to click the Download Link in Google Drive. Thank you.
Additional files to be uploaded soon.
We are always on the process of uploading new files.
For additional updates and unannounced uploads, please visit this section from time to time.
Like us on Facebook to get INSTANT UPDATES. CLICK HERE
You can also BOOKMARK this page in your web browser by clicking Ctrl+D in your keyboard for faster access in the future. Thank you fellow Teachers.
We at DepEd Teachers Club are always grateful to all our File Authors and File Contributors. Credit goes to all of them. Let us all give them thanks and show our support for all their works.
We are also thankful for all our File Editors, Sharers, Tech Volunteers and fellow Teachers for helping us and making this kind of service possible.
Thank you!
MORE DOWNLOADABLE FILES