"When love and skill work together, expect a masterpiece."
– John Ruskin –
Good day fellow Teachers!  We've been together for three years now. We had a lot of struggles in our beloved profession but we made it to this new school year together – supporting and sharing our knowledge for the welfare of each other. We are always there for each other as we dream of a smooth and productive school year. Together we will withstand any challenges. And now, we have uploaded our Week 8 – 4th Quarter Daily Lesson Log | March 9 – 13, 2020 DLL
Thanks to all our Contributors, File Editors and Tech Volunteers who selflessly manage our website contents as well as our social media accounts. Thanks to all of you for your continued support and your collective ideas.
And now as we start on another journey with our students and new challenges that are yet to come, we shall stick together as one – a solid DepEd Teachers Club!
No Teacher left behind.
This week's news that matter:
DepEd open to more dialogue on improvement of MTB-MLE implementation
As part of the ongoing K to 12 curriculum review, the Department of Education (DepEd) will conduct a nationwide conference of education practitioners and experts on March 25, 2020 to tackle improvements of the curriculum, including the implementation of Mother Tongue-Based Multilingual Education (MTB-MLE).

In a meeting of the Committee on Basic Education and Culture at the House of Representatives on Thursday, Secretary Leonor Magtolis Briones said that the one of the agenda of the conference is to review and update the MTB-MLE transition program.

"We are taking steps on the issues of MTB-MLE. Kailangan maresolve ito kaya lahat nirereview natin, at gusto nating baguhin natin ang challenges including the learning process of our learners," Briones said.

Republic Act No. 10533 or the Enhanced Basic Education Act directs DepEd to adhere to the principles and framework of MTB-MLE in its curriculum development. Kindergarten and Grades 1 to 3 learners are required to receive instruction, teaching materials, and assessment in their respective regional or native language.

Undersecretary for Curriculum and Instructions Diosdado San Antonio said the DepEd is keen to continue implementing the MTB-MLE despite the early challenges of its implementation.

Usec. San Antonio added that the Department already produced teaching and learning resources for 19 languages of the Philippines, which covered almost 80% of the learners' population, and are focused to develop resources for indigenous peoples (IPs) languages.

"This year, we hope to be able to do at least 20 IP languages and our roadmap by 2027, all of the estimated 180 IP languages will have their own learning resources for MTB-MLE," San Antonio added.

K to 12 Curriculum review

Usec. San Antonio noted that the Phase 1 of the review of the K to 12 curriculum is near completion and is set for presentation in the conference in March.

"We are set to find cognitive demands as written in our intended curriculum, if its comparable to our neighboring and first-world countries," San Antonio said.

San Antonio explained that the review is in three phases: curriculum as implemented; curriculum as assessed; and curriculum as attained.

"Initial review ito but complete in terms of Phase 1. There is really a need to come up with transitional strategies to address congestions in the curriculum," he shared.

Source: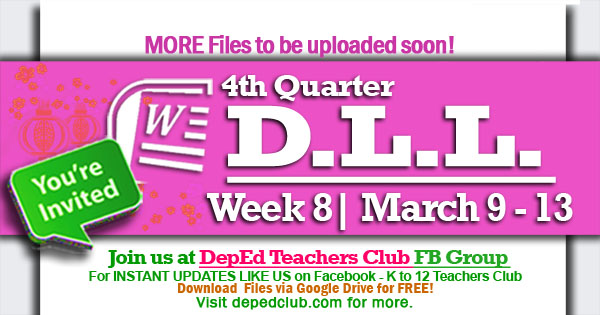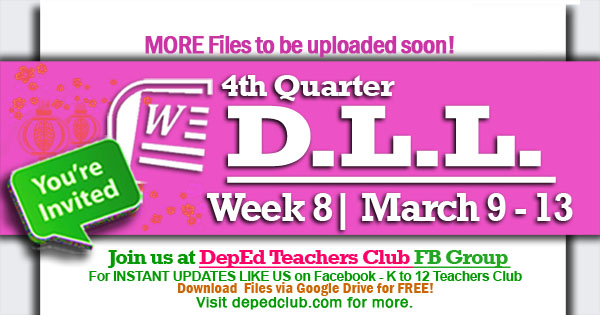 Week 8 – 4th Quarter Daily Lesson Log
March 9 – 13, 2020 DLL
IMPORTANT:
If you encounter an Error while downloading the files, please Log-in to your Gmail account (Here – mail.google.com) , then try again to click the Download Link in Google Drive. Thank you.
Additional files to be uploaded soon. Other Grades' DLL files are already uploaded. You may check them now.
We are always on the process of uploading new files.
For additional updates and unannounced uploads, please visit this section from time to time.
Like us on Facebook to get INSTANT UPDATES. CLICK HERE
You can also BOOKMARK this page in your web browser by clicking Ctrl+D in your keyboard for faster access in the future. Thank you fellow Teachers. 
We at DepEd Teachers Club are always grateful to all our File Authors and File Contributors. Credit goes to all of them. Let us all give them thanks and show our support for all their works.
We are also thankful for all our File Editors, Sharers, Tech Volunteers and fellow Teachers for helping us and making this kind of service possible.