"It does not matter how slowly you go as long as you do not stop."
― Confucius
Good day fellow Teachers!  We've been together for three years now. We had a lot of struggles in our beloved profession but we made it to this new school year together – supporting and sharing our knowledge for the welfare of each other. We are always there for each other as we dream of a smooth and productive school year. Together we will withstand any challenges. And now, we have uploaded our Week 7 – 4th Quarter Daily Lesson Log | March 2 – 6, 2020 DLL
Thanks to all our Contributors, File Editors and Tech Volunteers who selflessly manage our website contents as well as our social media accounts. Thanks to all of you for your continued support and your collective ideas.
And now as we start on another journey with our students and new challenges that are yet to come, we shall stick together as one – a solid DepEd Teachers Club!
No Teacher left behind.
This week's news that matter:
DepEd bats for more non-teaching staff, guidance counselors
Keen to further reduce teachers' load in school duties, the Department of Education (DepEd) is in continuous talks with the concerned national agencies to grant the needs for more non-teaching staff and guidance counselors.

Education Secretary Leonor Magtolis Briones on Thursday reported on a meeting of the House of Representative Committee of Basic Education and Culture that the Department of Budget and Management (DBM) is favorably considering the request of DepEd for the adding of non-teaching items to its overall budget.

For this year, DepEd was granted additional 5,000 non-teaching items but Briones hopes more slots for administrative or technical jobs will be given to the thousands of schools that the Department is managing.

"It is not enough for our 47,000 public schools but it is already, I believe, a step in the right direction," Secretary Briones said.

DepEd has also reduced the number of school forms needed to be filled out by teachers to 10 from the previous 36 forms after implementing simplified school forms, standardization of format, and updating and reduction of data needed in existing forms.

Solving the guidance counselors' supply problem

The DepEd chief also said that discussion with the DBM and Civil Service Commission (CSC) is ongoing to ease up minimum requirements to attract more guidance counselors in the public school system.

"At this time with Generation Z and the challenges which our learners our facing from society and global developments, kailangan talaga ng guidance counselors," Briones noted.

Briones explained that a public school guidance counselor has a very stringent minimum requirement, needing a master's degree holder and a LET passer, but the government does not offer a competitive salary for practitioners, thus creating a 'problem of supply'.

"We don't have enough graduates that specializes in guidance counselling, and if they are, they are usually in the private sector because the compensation is more attractive," she said.

Briones said that DepEd already proposed lowering the requirements for guidance counselors and is up for consideration of DBM and CSC.

Source:

Published: February 28, 2020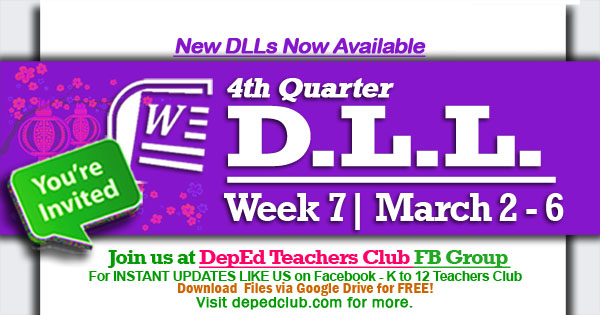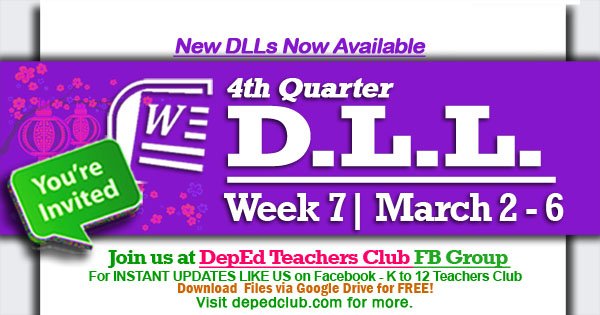 Week 7 – 4th Quarter Daily Lesson Log
March 2 – 6, 2020 DLL
IMPORTANT:
If you encounter an Error while downloading the files, please Log-in to your Gmail account (Here – mail.google.com) , then try again to click the Download Link in Google Drive. Thank you.
Additional files to be uploaded soon. Other Grades' DLL files are already uploaded. You may check them now.
We are always on the process of uploading new files.
For additional updates and unannounced uploads, please visit this section from time to time.
Like us on Facebook to get INSTANT UPDATES. CLICK HERE
You can also BOOKMARK this page in your web browser by clicking Ctrl+D in your keyboard for faster access in the future. Thank you fellow Teachers. 
We at DepEd Teachers Club are always grateful to all our File Authors and File Contributors. Credit goes to all of them. Let us all give them thanks and show our support for all their works.
We are also thankful for all our File Editors, Sharers, Tech Volunteers and fellow Teachers for helping us and making this kind of service possible.