Statement of the Department of Education on the proposed House probe on Deped Order 38 
October 28, 2017
The Department of Education (DepEd) duly recognizes the intent of legislators to conduct a probe on the nullified DepEd Order No. 38, series 2017 (DO 38), or "Further Clarifications to DepEd Order Nos. 12 and 27, s. 2017."
However, this predicament of teachers was not left unheard as the Department promptly issued DepEd Order No. 55, series 2017 (DO 55), or the "Revised Guidelines on the Implementation of P4,000 Net Take Home Pay for the Department of Education Personnel," which now supersedes (overrules) both DO 38 and DO 27 (Addendum to DepEd Order No. 12, s. 2017).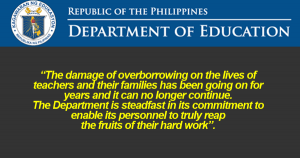 Furthermore, in keeping with Section 47 of the General Appropriations Act (GAA) of 2017, DO 55 protects the interest of teachers and other DepEd personnel as it ensures the observance of the P4,000 NTHP limit while giving first order of preference in salary deduction for the payment of employees' contributions or obligations to the Government Service Insurance System (GSIS) and Home Development Mutual Fund (HDMF), which include both premiums and loans. The same priority is also accorded by DO 55 to payments for the Bureau of Internal Revenues (BIR) and the Philippine Health Insurance Corporation (PhilHealth).
With 46.62% of unpaid GSIS loans accumulated by DepEd personnel and GSIS revealing that around 23,000 teachers retired this year without receiving pension due to unpaid debts, the Department is relentless in its pursuit to protect its employees and their families from financial and legal implications of non-payment of debts and to curb the culture of overborrowing by continuously conducting financial literacy seminars.
DepEd is also exploring measures that will enable its teaching and non-teaching personnel to manage their finances today and prepare for a comfortable future. Among these are the reduction of interest rates on loans through the expansion of the Provident Fund and coordination with GSIS on a loan buyout that will restructure an employee-borrower's PLI loans to provide lower interest rate on a longer payment term.
The damage of overborrowing on the lives of teachers and their families has been going on for years and it can no longer continue. The Department is steadfast in its commitment to enable its personnel to truly reap the fruits of their hard work.
---
To read more about the released DepEd Orders and the changes on the Guidelines on the Implementation of P4,000 Net Take Home Pay, you may visit the following Links.